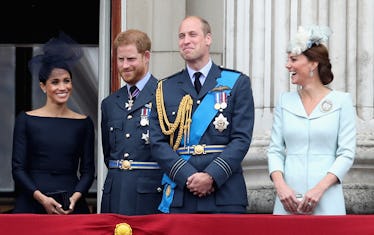 Here's Why The Royal Family Doesn't Celebrate Halloween Publicly
Chris Jackson/Chris Jackson Collection/Getty Images
With folks all over the world celebrating Halloween with costumes and spooky antics, a lot of people are wondering about what people over in the UK. are doing on this special day. More specifically, they're curious about the royal family. So, does the royal family celebrate Halloween? Well, the answer to that question is a little bit complicated.
Halloween is definitely a fun time for the younger generations of the royal family. People like Prince William, Duchess Kate, Prince George, and Princess Charlotte are known to partake in Halloween celebrations. But the royal family doesn't really celebrate Halloween publicly. They do, however, have their own fun behind the scenes... at least according to OK! Magazine's royal protocol expert Christina Reeves.
In an October 2017 report from OK! Magazine, Reeves detailed what Halloween is usually like for the royal family.
"The royals certainly don't publicly celebrate Halloween, however, Kate's mother, Carole Middleton and sister, Pippa Middleton might well put their party planning skills to good use," Reeves explained. "It's likely [William and Kate would] throw a private party for George and Charlotte behind closed doors. Whether it's rustling up a quick Pumpkin pie or soup, I'm sure they won't let it go unnoticed."
So, why won't the royals celebrate Halloween publicly? Well, according to OK!'s report, "its widely known the Queen and her family will never celebrate or indulge the spooky holiday publicly."
But there's more to it than simply the Queen's distaste for the holiday. The royal family's public rejection of Halloween stems all the way back to Queen Victoria, who set in place a code of conduct that basically called for total class and sophistication. For the royal family, that means facing the public with the impeccable behavior and self-respect that most people expect from them. As you can imagine, dressing up in Halloween costumes definitely wasn't viewed favorably. So, it was then that the royal family decided to keep mum about Halloween.
And while that's unfortunate for fans hoping to catch a glimpse of their favorite royals in costume, it's not such a glum prospect for the royals themselves. It's well-known that the royals do, in fact, dress up from time to time. Heck, even Queen Elizabeth has donned a costume or two in her day. The Queen has, however, given up the costumes since being crowned in 1952, so don't expect to see her in costume anytime soon.
To add to that, royal costumes haven't been without their controversy. Back in 2005, beloved Prince Harry reportedly attended a costume party in London dressed in a Nazi uniform. It was a choice for which he received a tremendous amount of backlash. Harry did apologize for his poor choice of costume, but I'm sure the rest of the royal family wasn't too happy about all the bad press. And that very likely added to their aversion to Halloween.
So, with all that said, it's doubtful that the royals will make any public acknowledgment of Halloween, but they'll probably have a spooky celebration in the privacy of their own home.