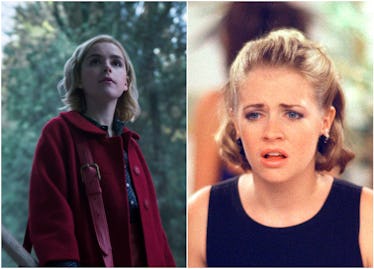 This 'Chilling Adventures Of Sabrina' Theory May Connect It To The Old Show In A Big Way
Netflix & The WB
The young witch of Netflix's Chilling Adventures of Sabrina isn't quite as sweet and sunny as that of the ABC and WB sitcom Sabrina the Teenage Witch. Fitting accordingly with current times, Kiernan Shipka's Sabrina is fiery about helping her friends achieve equality at their school. While she doesn't have much in common with Melissa Joan Hart's version of the character, the older series might have provided a major clue about what's to come. Is Sabrina a twin? A moment in Sabrina the Teenage Witch's third season has fueled this Chilling Adventures of Sabrina speculation.
In the first season of Chilling Adventures of Sabrina, secrets about Sabrina's parents came forward as Sabrina avoided her Dark Baptism. While Aunt Zelda (Mirando Otto) accompanied Edward Spellman in signing an infant Sabrina's name in the Book of the Beast, Aunt Hilda (Lucy Davis) and Edward's wife Diana ensured that Sabrina was baptized in the Catholic church, cancelling out this early deal with the Devil. The aunts' secrecy, Sabrina's strange visions of her parents, and the mysterious circumstance of their deaths all pointed to the likelihood that Season 2 will unveil a huge Spellman family revelation.
Hardcore fans of Sabrina the Teenage Witch have an inkling of what this secret could be. As Refinery29 points out, the first episode of Chilling Adventures of Sabrina detailed Sabrina's startling vision of seeing her parents in the forest and then spotting two babies together. When she lifted the babies' blanket, one infant's feet appeared normal, while the other's black legs didn't exactly seem healthy or even human. According to Refinery29, the shot is reminiscent of what Hart's Sabrina confirmed in the Season 3 episode "The Good, The Bad, And The Luau," saying, "Every member of the Spellman family is born with a twin."
In that episode of Sabrina the Teenage Witch, Sabrina had a twin sister named Katrina, whose existence was the family secret preventing Sabrina from receiving her witch's license. According to the show's folklore, one twin is always the evil one, and Katrina won that title. While the sweet Hilda and a slightly darker Zelda are seemingly proof of this rule, Chilling Adventures of Sabrina hasn't hinted at any doubles of Edward or Cousin Ambrose roaming somewhere in the magical realm.
However, this family pattern carrying over to Chilling Adventures of Sabrina definitely makes sense, as it would explain the appearance of two babies. Plus, the series did have an odd emphasis on one twin absorbing another in utero. In Hilda's nightmare in the episode "Dreams in a Witch House," Principal Hawthorne revealed his twin brother grotesquely caught in his stomach. In the season finale, Zelda lied to Father Blackwood, claiming that his dominant child consumed the other in the womb but later sneaking his firstborn daughter into the Spellman home. While Sabrina and her possible twin might have been born without complications, perhaps someone pulled a Zelda and stole her sibling.
This fixation on the duality of twins doesn't seem like a coincidence, so we'll have to wait and see if a certain Katrina Spellman pops up in Season 2. That's one family reunion I certainly won't miss.
Season 1 of Chilling Adventures of Sabrina is currently streaming on Netflix.