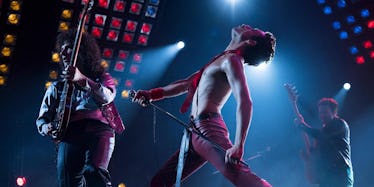 Here's What Queen Fans Should Know About Rami Malek's IRL Singing Skills
20th Century FOX
The early reviews of Bohemian Rhapsody aren't the kindest. The amount of behind-the-scenes drama to get the film off the ground hamstrung the final product according to critics. But everyone seems to agree there is one thing that rocks as hard as the original Queen: Rami Malek's performance as Freddie Mercury. But Mercury wasn't just known for his on-stage antics, but his voice. Malek, on the other hand, is not. Does Rami Malek sing in Bohemian Rhapsody? The answer turns out to be more complicated than one might think.
Here's what is clear from the reviews. Unlike A Star Is Born, where Lady Gaga insisted all vocals be done live in the take because lip syncing is always noticeable on some level, Malek did not. This doesn't mean the vocals he's lip syncing to are Mercury's, though. Some of it is his.
Speaking to Metro US, Malek revealed:
It is an amalgamation of a few voices. But predominantly it is my hope and the hope of everyone that we will hear as much Freddie as possible. I think that is the goal for all of us.
According to the New York Times, Malek's voice is mixed with Canadian singer Marc Martel to create Mercury's incredible vocal range. So it is Malek, but not entirely.
The soundtrack, on the other hand, is all Queen. The film is bookended by a recreation of their famous 1985 Live Aid performance. Live Aid was the culmination of a series of charity musical fundraiser events done by Band Aid, to provide famine relief for Ethiopia, all of which were masterminded by Bob Geldof. ("Do They Know It's Christmas" is another famous Band Aid project.)
The event was held in both the UK and the U.S. simultaneously. (Phil Collins famously took a Concord from one to the other so he could perform live at both.) With many A-listers from the Western rock and roll world involved, it was a battle of egos to see who could outperform who. Mercury won handily.
The soundtrack has the original performance in full, with all five songs from their 20-minute set: "Bohemian Rhapsody," "Radio Ga Ga," "Hammer to Fall," "Crazy Little Thing Called Love," and "We Will Rock You," ending with "We Are the Champions."
Also included are some of Queen's less famous songs, like a live track of "Love Of My Life" performed at the Rock in Rio Festival, "Keep Yourself Alive" from their The Rainbow Show, and a new version of "Don't Stop Me Now." There's also a movie cut of "We Will Rock You."
There are also a couple of tracks credited to Smile, which might confuse listeners who haven't seen the film yet. When Mercury joined up with band members Roger Taylor and Brian May, they were already a band, just one without a lead singer, called Smile. When Freddie joined, the name changed to Queen. But now he's gone, May and Taylor have gone back and recorded "Doing All Right … Revisited" with Tim Staffell, the lead vocalist who quit all those years ago.
The Bohemian Rhapsody Original Soundtrack is available for download on Amazon. Bohemian Rhapsody will arrive in theaters on Nov. 2, 2018.