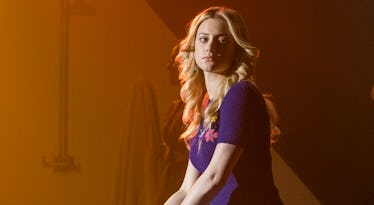 The 'Riverdale' Musical Episode Seriously Shows Off Lili Reinhart's Musical Chops
CW
We got to see a whole new side of the Riverdale teens on Wednesday night's new episode of the CW drama. In the midst of a crooked mayoral campaign, a town on the brink of civil war, and the return of a masked serial killer, Archie, Betty, and company decided what better time than now to stage a musical? Viewers got to see more singing and dancing than ever before on the show, and it might have gotten some fans wondering about the cast's actual musical talent. Like, does Lili Reinhart actually sing that well? The special episode gave Reinhart the chance to show off more than just her acting skills.
Although the Riverdale cast was obviously singing along to previously recorded tracks in Wednesday night's musical episode, "A Night To Remember," it does sound like the actors themselves laid down the vocals for their parts. After all, we have heard most of the main cast singing in Riverdale prior to this Carrie: The Musical-centric episode, but viewers may still be unaware of how musically talented the actors on the show actually are in real life. For insance, KJ Apa released his own album of original guitar music when he was 14, and Camila Mendes has shown off her impressive singing skills off the Riverdale set in a bunch of covers.
Compared to Archie and Veronica, we've seen Betty sing the least in past episodes of Riverdale. Season 1 was pretty much devoted to Archie's pursuit of music, and since Veronica joined the Pussycats she has been singing more and more. The only time we have seen Betty sing was when she did that unsettlingly sensual cover of "Mad World" at F.P. Jones's welcome-home party.
But that definitely changed in "A Night To Remember," which gives Betty Cooper a whole lot of singing to do. Betty gets cast as Sue Snell in Riverdale High's production of Carrie: The Musical, the popular girl who feels bad for Carrie White and decides to try to help her. It's a big part with a lot of musical numbers, but Lili Reinhart was definitely ready for the challenge.
Lili Reinhart reportedly developed a passion for not just acting, but also singing and dancing at around age 10, and would beg her mom to drive her to auditions in New York. Although Reinhart has not been able to show off her singing skills much in Riverdale up until now, she has posted clips of herself covering some popular songs online, including "Gravity" by Sara Bareilles:
You can also listen to her cover of "Wicked Game" by Chris Isaak:
So, yeah; Lili Reinhart can definitely sing! It's kind of a shame that Riverdale has not given Betty more songs before the musical episode, since the show does seem to work in a singing performance every couple of episodes or so. Reinhart also seems to have a ton of fun with her singing — she posted a few clips of herself and Camila Mendes giddily belting out some silly tunes a while back.
Although Lili Reinhart definitely has an impressive singing voice, she has not pursued a music career professionally, it seems. Given how talented this cast is when it comes to music and how well the Carrie: The Musical episode went, I could totally get behind some sort of cast album or even a tour maybe.
In the original Archie Comics, Archie, Veronica, Betty, Jughead, and Reggie actually formed a band called the Archies, so maybe that's a route that Riverdale might take to continue featuring the singing talent of the cast. All I know is that after that awesome musical episode, I'm hoping for a followup next season!