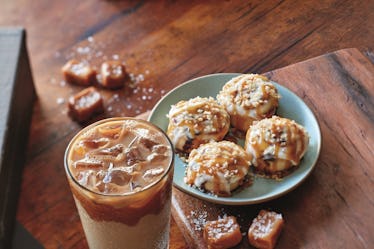 Cinnabon Is Selling Cold Brew Coffee Now & Every Flavor Sounds Delicious
Cinnabon
This might be kind of a hot take, but there are very few things in life that don't go with cold brew coffee. Aside from sleeping, and like, maybe toothpaste, cold brew is super enjoyable literally anytime, anywhere, and with basically anything... but especially with cinnamon buns. And, since you might now be wondering if Cinnabon sells cold brew coffee, they actually just released an entire line of it, and TBH, it sounds like pure heaven in a to-go cup.
Over the course of your life, I can guarantee you've eaten a Cinnabon at least once. Whether you were strolling through the mall, hangry from shopping, or if you were sitting in the airport waiting for a flight, just one whiff of a fresh-based cinnamon bun is literally paralyzing. It's far too delightful to pass up, not in a million years. But, Cinnabon totally just stepped up their game like ten notches, when, on Feb. 26, they announced the release of home brewed Cinnabon cold brew iced coffees, per a press release. It's no joke, because stellar cold brews are no laughing matter... especially with a hot, warm Cinnabon. I'm starting to realize that dreams really do come true, and that this truly is a caffeine-laden, sugar-rush miracle.
Since you're probably already looking up nearby Cinnabon locations at this moment in time, why not plan out your entire order ahead of time? I know I already am. Luckily, Cinnabon is actually offering three different cold brew flavors to go with all of your Cinnabon cravings, per their announcement about the brews. Customers can choose between the spicy, Signature Cinnamon Roll, the subtle sweet Vanilla, and some salty-sweet Salted Caramel cold brew. And whichever flavor you ultimately go with will probably vibe perfectly with your Cinnabon. It really all just depends on what you're craving when you get there, but to be honest, it doesn't really sound like there's any way to go wrong. Each of them sounds absolutely divine.
Per the release, Cinnabon's Cold Brew Iced Coffee is steeped over time, as opposed to getting roasted. Apparently, this ultimately makes it 60 percent less acidic than most brewed and iced coffees. The end result is that necessary boost of caffeine you were looking for, with a little added smoothness and sweetness. Goodbye bitterness, and hello, smooth coffee loveliness.
Jill Thomas, vice president of global marketing at Cinnabon, said in the press release that adding cold brew to the menu helps to make Cinnabon a one-stop destination. She said that coffee and cinnamon rolls go together perfectly, as a pretty irresistible combo. Thomas said in a statement,
Our new Cold Brew Iced Coffee is so over the top delicious, we know our guests will see this as another reason why they can't resist the temptation of Cinnabon. With additional beverage innovations to come later this year, we're excited to offer a one-stop destination for out-of-this-world premium drinks to pair perfectly with our world famous cinnamon rolls.
Each cold brew flavor is now available in a 16-ounce cup for $2.99, and in 24-ounces for $3.39. To enhance the coffee-cinnamon roll experience, they recommend adding caramel drizzle and a salty toffee crunch to your cinnamon bun, for just $0.50 more. It'll enhance the coffee flavors, and bottom line: it'll also make everything taste ten times more amazing.
I'm not sure about how you're feeling, but I'm totally hankering for a cold brew and a cinnamon roll right now. I know for a fact that my next coffee break is going to be an absolutely wild time, so be prepared for some pretty gnarly Instagram updates, people.