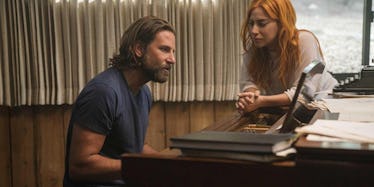 Fans Have A Major Question About Bradley Cooper's Role In 'A Star Is Born'
Warner Brothers
A Star is Born has been made four times so far. The first version arrived in the 1930s, the second in the 1950s, the third in the 1970s. The fourth version was first set into motion in the 1990s, but languished in development hell for decades, until Bradley Cooper swept in and took over the project as both director and leading man. Though the original wasn't a musical, the more famous remakes were, leading fans to worry if Cooper had the chops to pull off the part of a singer. Does Bradley Cooper sing in real life? No, but you wouldn't know it from his performances in the trailer.
Casting actors in musicals who aren't strong singers has been a trend in the last couple of decades, from Nicole Kidman in Moulin Rouge to Ryan Gosling in La La Land. But the leading lady Cooper chose to play against is pop star Lady Gaga, who not only has had dance hits, but put out records where she sings classical standards. She has proven to detractors she has serious vocal chops, despite the electronica and use of autotune of her early work.
Cooper, therefore, had to aim high. But Gaga, despite her rock and roll theatrics, doesn't have a lot of experience as an actor. (Ask anyone who met Jo Calderone.) So, she and Cooper made a deal. He'd help her performance, and she'd help his musicianship.
Talking to Vulture, Cooper admitted Gaga was the one who pushed him to sing live during filming.
[Gaga] said right from the beginning that there would be a barter. [She said] 'I'm gonna rely on you to get a performance that's honest out of me' — because she'd never done a film before — 'and I'm gonna make sure that you're going to turn into a musician. Because we're going to sing everything live.' And I went, 'Wait, what?'
Cooper realized Gaga was right — lipsyncing for a film that's supposed to be about A-List country and pop stars would never work. So, he got to work, spending nearly three years preparing for the part.
[Singing live] was terrifying, and I really relied on her. I spent about a year and a half taking vocal lessons and preparing.
The movie also went the extra mile, filming the two of them performing on stage at Coachella and Glastonbury, the latter of which was done by borrowing four minutes of Kris Kristofferson's scheduled set during the 2017 festival. Kristofferson starred as the male half of the love story in the 1976 version with Barbra Streisand.
The work paid off, though. When the first trailer arrived, there was an exhale across fans of all stripes that the new movie had real potential. As Cooper crooned "Tell Me Something Good," fans could hear what was good: His singing.
A Star Is Born has been available in limited release since its film festival debut at the beginning of September. It goes into wide release this coming weekend, opening everywhere in the U.S. on Friday, Oct. 5, 2018.