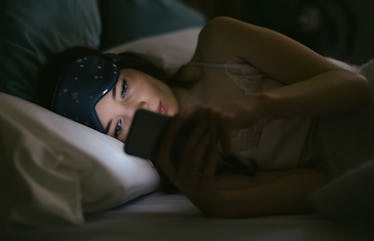 These 9 ASMR Videos Can Help You Fall Asleep & Experts Explain Why It Works So Well
The ways in which people fall asleep are just as personal — and strategic — as the clothes we choose to snuggle under the covers in. Take me, for example: I can't doze off unless I've read a few pages in a book (a real, hard copy BTW - I don't do the iPad thing). My husband, on the other hand, lulls himself to sleep watching videos on his phone. As frowned upon as any sort of technology before bed may be, things like ASMR videos can help you sleep — think white noise, but on a more intimate scale. The point of even having a nighttime routine, after all, is to figure out what sort of behaviors and activities wind down your individual body quickly, and efficiently. So if you're having trouble falling asleep, listening to ASMR videos might be a valid option for you.
TBH, I'd never heard of ASMR until recently, and the best way I can go about describing this nighttime phenomenon would be that, well, it's interesting, to say the least. ASMR stands for autonomous sensory meridian response, and essentially, that is the feeling, or tingle, you get when watching things like ASMR videos. The content on YouTube focuses less on the physical subjects on camera, and more on the sounds they make, hoping to produce that buzzing. The goal is to trigger a kind of tingling sensation that starts in the brain, and moves down the listener's spine to, ultimately, garner a kind of meditative state that lets you fall asleep feeling completely zen-ed out.
In an exclusive interview with Elite Daily, Dr. Mark Winwood at AXA PPP healthcare, explains that ASMR promotes "feelings of relaxation, relief and, in doing so, sleep." He says that the soft sounds and whispering involved seem to be linked "with parent and infant bonding" because they create a sense of closeness and emotional security.
Are you curious, yet? I thought you might be. Browse through the following examples of ASMR below to figure out which approach works best in helping you fall — and stay — asleep.