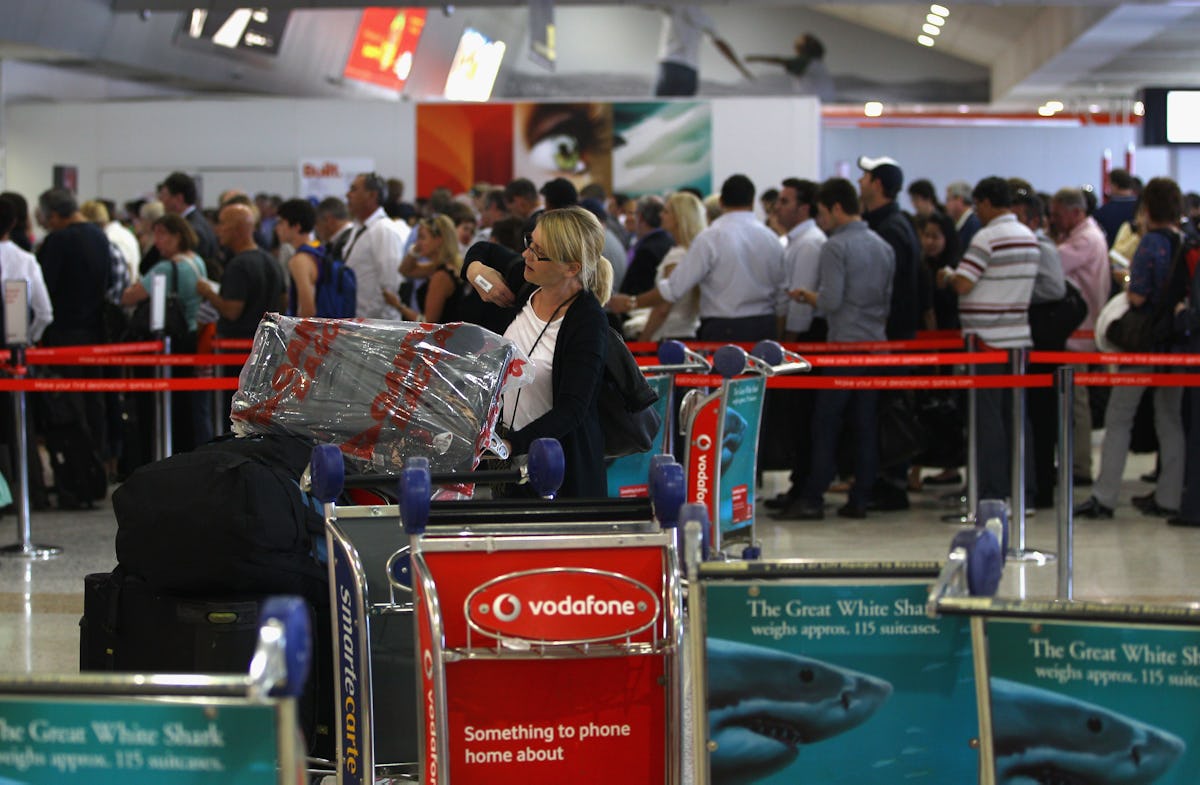 A Government Shutdown Might Affect Travel, So Keep Your Fingers Crossed
Mark Dadswell/Getty Images News/Getty Images
In comments made earlier on Wednesday, Dec. 6, President Donald Trump said the country could expect a government shutdown as soon as Saturday, Dec. 9, due to the Democrats' stance on immigration. A shutdown could have wide-reaching effects, not just on federal employees and programs, but also for regular citizens — unwelcome news at any time of year, but especially ahead of the holidays. After all, a government shutdown could affect travel in myriad ways.
But what does the government not passing a spending bill have to do with my travel plans? you might be wondering.
Well, a lot.
Everything from obtaining important travel documents to dealing with airport security and even taking the train could feel the reach of a government shutdown, especially depending on how long it lasts.
Based on past shutdowns, here's what to know when making travel plans during a government shutdown.
Airport security, ugh.
According to ABC News, the last time the government shut down, for 16 days in Oct. 2013, approximately 800,000 federal employees were furloughed. While the New Statesman says that airports didn't anticipate longer waits for travelers in 2013, according to USA Today, a shutdown now means your airport plans could change: air travel could be affected by a shutdown. Your security wait time could expand, thanks to furloughs for TSA agents, who are federal employees.
Riding the rails.
U.S. rail system Amtrak, while technically a private company, relies heavily on government subsidies. In fact, according to Slate, Amtrak has never turned a profit. So while the rail company vowed to operate normally during the 2013 shutdown — which lasted for just over two weeks — that might not be the case this time around. If the shutdown lasts, say, a month, Amtrak is in trouble, and may have to cut services.
Need to get your passport in order? Do it soon.
The State Department's passport department is partially funded by fees, according to the New Statesman, so while it's not completely dependent upon federal money, you should act soon if you need to update an old passport or apply for one for the first time. We're serious: during a 1996 government shutdown, the State Department stopped processing applications, affecting hundreds of thousands of applicants.
Why is this happening?
The government has avoided shutdowns at least twice already this year: first in April, with a keep-the-lights-on temporary stop-gap measure. Then again in August when Trump threatened to shut down the government over funding for his border wall between Mexico and the United States.
But this time, the threat seems more serious than ever, given the bitter partisan debate over immigration reform. In fact, The Hill reports that the White House Office of Management and Budget has been preparing federal agencies for an impending shutdown.
Congress has long known that they have until midnight on Dec. 8 to pass a budget before funding expires, or else the government will shut down.
But there are a few flies in the ointment, not least of which is the fact that Trump announced in September that he would be ending the Obama-era Deferred Action for Childhood Arrivals (DACA) program, which allows undocumented individuals who arrived in the U.S. as children (also known as Dreamers) to go to school and work without fear of deportation. When the administration made this announcement, myriad Democrats announced that immigration reform and a permanent Dream Act — legislation to protect Dreamers —would have to be part of the deal in order for them to vote for a budget.
But Trump has signaled several times this fall that he doesn't want a bipartisan solution to DACA — which he echoed in Dec. 6 comments to reporters before a cabinet meeting.
According to Politico, Trump told reporters on Dec. 6, "[A shutdown] could happen. The Democrats are really looking at something that is very dangerous for our country. They are looking at shutting down. They want to have illegal immigrants pouring into our country." Trump then clarified that he believes these immigrants would bring crime, which would be unacceptable. He said, "We don't want to have that. We want to have a great, beautiful, crime-free country."
Though Trump preemptively blamed the Democrats, Republicans control both the House and the Senate and only need eight Democratic senators to pass a spending bill, according to Politico. Not to mention, according to The Hill, the 34 Republican House members demanded action on DACA by the end of this year — and at least one congressman, Florida's Carlos Curbelo, has joined Democrats in threatening not to vote for a budget fix.
But, sure. And hey, isn't it more fun to tweet about "Chuck and Nancy"?