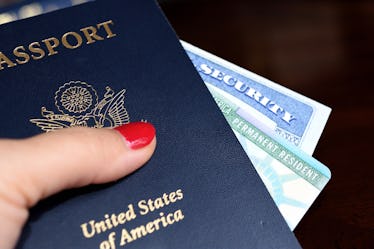 Make Sure You Bring This One Thing When You Travel To Mexico — No Matter What
An international getaway is always a great choice for an exciting vacation. The thought of trading in the monotony of your daily schedule for a week filled with international adventure might make you want to run out the door ASAP, but out-of-country travel requires a little more preparation than that. Before you jet off, you'll need to make sure that you have all of your travel documents (like your passport) in order. If you're heading south of the border soon, you might wonder what documents you'll need to ensure smooth travel. So, do you need a passport to go to Mexico?
While there are instances where you can use alternative forms of identification, you will need an up-to-date valid passport for your trip to initially cross the border, according to Alexis Tiacoh, PR Specialist for Expedia.com. I reached out to Tiacoh to find out more about when and where you'll need your passport for traveling to Mexico. She says,
Mexico is without a doubt one of the best places to escape to any time of year. With the country's close proximity to the U.S., travelers can easily get to the most popular destinations by either driving, cruising, or flying. No matter how you're getting to Mexico this summer, knowing exactly what documents you'll need before you embark will ensure your international getaway is a success.
Flying To Mexico
Flying to Mexico requires that you travel with an official passport and a Forma Migratoria Múltiple (FMM), according to Tiacoh. She explains the FMM is an immigration form "that states you are a visitor," and it "allows you to be in the country for 180 days." Tiacoh stresses the importance of keeping track of your portion of the FMM form when the customs officer returns it to you at the airport. You'll need that part to gain entry back into the United States.
Finding a safe place in the hotel room for your FMM as soon as you put your bags down might not sound like the most exciting way to begin your Mexico getaway, but you can hop on the fun bus right after you take care of the necessities.
You'll also fill out a customs form when you gain entry to Mexico by flight, per Tiacoh. If you're flying to Mexico with your four-legged fur baby, Tiacoh explains what documents you will need for your pet. She says, "You'll need a Health Certificate for Mexico issued by an official authority or by a licensed veterinarian." You'll also need "proof of vaccines against rabies and distemper, administered at least 15 days before the arrival of your pet in Mexico."
I know that talk of travel documents is not the most fun part of a vacation, but it is necessary to ensure you have a smooth trip and great time once you land.
Driving To Mexico
If you have the time to get behind the wheel and take a road trip down to Mexico, you'll want to make sure you have a valid passport to cross the border. Taicoh shares that immigration requirements (FMM and customs forms) are the same as flying, "but you must deliberately stop at the border point and visit the customs check points to get your FMM form stamped."
If you're a frequent U.S. to Mexico traveler with a Secure Electronic Network for Travelers Rapid Inspection (SENTRI) card, you can use the dedicated SENTRI lanes at the border, per Tiacoh. To obtain a SENTRI card, you need to apply at the U.S. Customs and Border Protection (CBP) website and then undergo a "rigorous background check and in-person interview," per the CBP website.
When it comes to proof of car insurance, Tiacoh explains that it is not required, but you will need it if you happen to commit a traffic violation or "any review due to having international plates." So it's probably a good idea to keep your proof of car insurance close by when you head to Mexico.
Finally, driving may give you the freedom of sticking to your own schedule, but keep in mind that you may have to get a permit for your vehicle that allows you to keep your car in the country for up to six months. You can obtain a permit either at the border or at a Mexican Consulate office in the United States, according to Tiacoh. It's also important to note that there is a deposit required for the car permit, and it will be returned to you when you enter back into the United States at the border.
Now that you know how to ensure a stress-free Mexico road trip, you can round up your besties and put the pedal to the medal.
Setting Sail To Mexico
Hopping aboard a cruise to Mexico? Make sure you have your passport. As for other forms or travel documents needed, Tiacoh shares that your cruise line will alert you ahead of time what other documents you might need.
Tiacoh also shares some other helpful tips to keep in mind when traveling to Mexico. As mentioned before, a valid passport is required for all travel to Mexico, but you can lighten your load once you arrive. Per Tiacoh, you can opt to keep a passport card or or driver's license with you while you enjoy your Mexico vacation. In that case, make sure you keep your physical passport safely tucked away in your hotel room.
As you prepare to jet off, there is one more note to keep in mind about your passport. Tiacoh says, "Obviously passports are key anytime you travel internationally, and in some instances they must be valid for six months prior to departure." So make sure your passport is valid and up-to-date to avoid any travel snafus.
Updating your passport and gathering necessary travel documents isn't as fun as shopping for new swimsuits and sunglasses for your trip — but once you have everything in order, you can enjoy a stress-free vacation.