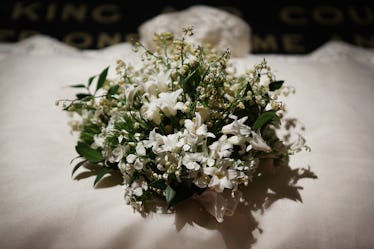 Wait, Everything You Think You Know About Royal Wedding Bouquets Is A Lie
Peter Macdiarmid/Getty Images News/Getty Images
With Prince Harry and Meghan Markle's royal wedding less than two weeks away on May 19, there's been a lot of buzz about all the finer details of this historic ceremony. All of the details have already been excruciatingly planned, from the color schemes to the plants that will be used in the royal wedding bouquets. One of the rumors that's been going around is that royal brides carry a sprig of myrtle in their bouquets in a tradition that comes from Queen Victoria's wedding.
While British brides do carry a sprig of myrtle — a tradition that Meghan is expected to follow — the tradition did not technically begin with Queen Victoria's wedding to Prince Albert, but with Prince Albert's grandmother giving Queen Victoria a sprig of myrtle when she visited her in-laws. Queen Victoria planted the myrtle at her home on the Isle of Wight, and when her daughter got married in 1858 — almost two decades after Victoria's wedding — she carried a sprig of myrtle from the plant in her bouquet.
Myrtle, which is a woody evergreen shrub, is a plant well-suited to being in a bouquet for a wedding. The plant is thought of as the flower of love and marriage. When Queen Elizabeth the Queen Mother got married in 1923, she added a new layer to the tradition of myrtle when she left her bouquet at the Tomb of the Unknown Warrior at Westminster Abbey, a gesture in memory of her brother Fergus who died in World War I. Every royal bride has also left her bouquet at this monument since that tradition began.
Not all the myrtle in royal wedding bouquets come directly from the bush Queen Victoria planted on the Isle of Wight. When Princess Elizabeth (now Queen Elizabeth) chose her wedding bouquet of orchids, cattleya, and odontoglossum in 1947, she included a sprig of myrtle from Queen Victoria's myrtle bush and later planted it to start her own myrtle.
Different royal brides have also had different associations with the plants they use in their wedding bouquets. For example, in addition to myrtle from Queen Victoria's myrtle bush, Lady Diana included yellow roses of a strand named after Prince Charles's recently deceased great-uncle, Lord Louis Mountbatten. The bouquet also included many other flowers that were of a similar design as Queen Elizabeth's orchid bouquet.
When Prince Charles got married to Camilla Parker Bowles in 2005, the ceremony was much more low key than his first marriage to Lady Diana. Camilla's bouquet included myrtle from a supporter in Cornwall. Her bouquet also included lily of the valley and primroses in a simple spring arrangement.
The latest royal weddings have unified the traditions stemming from when Queen Victoria received the gift of her myrtle. Kate Middleton carried two sprigs from both Queen Victoria's 170-year-old garden and Queen Elizabeth's myrtle bush when she got married to Prince William in 2011. Her entire wedding bouquet was also thought to be designed in homage to Diana, William's mother, and included ivy, hyacinths, and lily of the valley among its different plants.
For this latest royal wedding, rumor has it we can expect to see that Meghan Markle's bouquet will contain white garden roses, foxgloves, and peonies. Branches of beech, birch, and hornbeam are also going to be included in the bouquet. And it's only to be expected that the bouquet will contain at least one sprig of myrtle from Queen Victoria's garden, although it's unclear whether Meghan will follow what Kate Middleton started and include sprigs of myrtle from Elizabeth's plant as well.
While it might seem obsessive to be paying such close attention to the finer details of a wedding, it seems like all of us can get swept away in romance sometimes. Even something as simple as a royal wedding bouquet is laced with a ton of associations and history that makes the event that much more exciting — and impressive to your friends, when you are able to drop some knowledge on them the day of the event. Let the royal wedding countdown continue!
Check out the "Best of Elite Daily" stream in the Bustle App for more stories just like this!