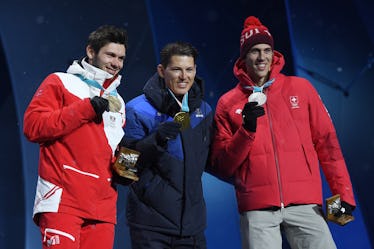 Olympic Medalists Take Home More Than The Glory When They Win Big
David Ramos/Getty Images Sport/Getty Images
The whole point of the Winter Olympic games is to compete hard so you can show some pride for your country and bring that shiny medal back home. The PyeongChang 2018 Winter Olympic athletes are living their best lives right now. It's all blood, sweat, tears and lots of hustle for the glory. Yeah sure, winning a medal is totally great and all, but if I'm being honest, what we all are dying to know is, do Olympic medal winners get paid prizes? Because everyone likes to make it rain.
Of course just being able to say you won at the Olympics is a hefty prize of its own, but some Olympic athletes do get some compensation. According to The New York Times, the athletes do not receive any money from the International Olympic Committee (IOC), but medal winners are paid by the national federations — depending on what country they are from.
America, for instance pays their winning athletes the same across all sports. The United States Olympic Committee (USOC) awards athletes $37,500 for gold, $22,500 for silver, $15,000 for bronze, according to The New York Times. Team-sport medalists split the money evenly amongst the team members. That's 50 percent more than what athletes got during the 2016 Summer Olympics in Rio. Also, according to CNBC, their winnings in PyeongChang won't be taxed if their total income is under $1 million.
After the games in Rio, medalists were being taxed on their prize money, which they started referring to as the "victory tax." But an Obama-era law signed in 2016 made a special exception for prize money won at the Olympics. Although it was passed in 2016, it was made to be retroactive to Dec. 31, 2015, meaning that Rio 2016 winners were able to claim the tax break, according to Time.
Some other countries award medalists money, though on various scaled. In Singapore, gold gets you a cool $1 million, with $500,000 for silver and $250,000 for bronze. That's a lot of money. In addition to the U.S. and Singapore, Indonesia, Kazakhstan, Azerbaijan, Italy, Hungary, Russia, France, South Africa, Germany, and Canada all give "medal bonuses."
You might notice that the United Kingdom is not on that list. They do not hand out money for winning a medal. Instead, the country devotes government and lottery funds to the Olympics and Paralympics, according to the BBC. The funding is to help athletes with stipends and training through their run up to the Olympics. Olympic medalists receive a stipend of $36,000 USD a year, according to Money Under 30.
A yearly stipend could help athletes who, even if they place, only get that bit of cash. Even if it isn't that much, a stipend means you have some cash flow for living expenses while you work your ass off to train and compete, which is something that a lot of athletes worry about when they are not competing.
The USOC has a performance-based stipend called Operation Gold in place which helps the athletes with expenses like rent and food, according to Bustle. Christy Cahill, USOC Director of Communications, explained that the program works by rewarding athletes for "top finishes in a sport's most competitive senior international competition of the year." She also explained that the payout is different every year depending on how close it is to the Olympic games.
Cahill also mentioned another program called Athlete Career & Education Program (ACE) that helps athletes with "non-competition" careers. Assisting them with things like job placement. She told Bustle,
In 2017, a total of 1,654 athletes were part of ACE and we had 129 job placements (90 part-time, 39 full-time). Finally, our sponsor DICK'S Sporting Goods has something called the Contenders Program, which offers flexible work schedules and a competitive wages to athletes training to be part of Team USA.
But it can be hard to live in-between competitions, from what some athletes have said. Team USA figure skater Adam Rippon tweeted on Feb. 3, just before the PyeongChang games began, about being broke and having to steal from his gym when he was a younger athlete.
The Olympics always have an air of glory and glamour to them, but I think most of us don't really think about how the athletes get by when they are not skiing down the slopes or twirling on the ice for medals (and for our entertainment).
It takes a lot to train hard and win — it's basically a full time job. I can't imagine having that sort of commitment to something and being such a talented athlete, but also having to worry about money. I guess all that glory and honor of being the best must be really awesome.