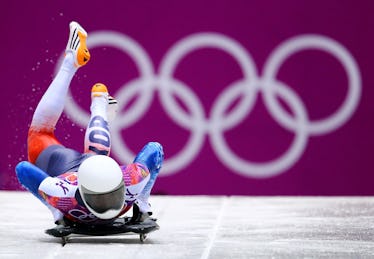 Olympic Athletes Don't Get Paid For Competing In The Olympics, But It's Complicated
Al Bello/Getty Images Sport/Getty Images
The Winter Olympics are only a few short weeks away. And while the rest of us can sit back, relax, and wait for the games to begin, most athletes don't have that luxury — especially if it's their livelihood. If you're asking yourself, Do Olympic athletes get paid for all this?, the short answer is no. The long answer is maybe, if they're lucky.
According to Business Insider, the International Olympics Committee (IOC) doesn't pay athletes a penny for competing in the games. The IOC states that 90 percent of its massive revenue goes back to athletes and sport worldwide, but reading the 2016 financial report's fine print shows that there are a lot of costs that this covers, including staging the games, team development, and more. At the end of the day, athletes certainly aren't getting a big payout.
But there are other ways that the Olympics can translate into a cashflow for athletes. The first way is through medal bonuses. Some countries' national Olympic committees offer monetary prizes for placing first, second, or third. In Malaysia, for example, a gold medalist can cash out with $600,000. But it's a numbers game, as Business Insider points out: There are about 15,000 athletes at the Games and only about 1,000 medals.
The U.S. Olympic Committee (USOC), on the other hand, will dish out $25,000 for a gold — a figure that sounds like a lot until you remember it's subject to taxes. And it's hardly compensation for years of training in which athletes have (presumably) had to forfeit years' worth of full-time employment in order to train. So if you win big (like, ten-gold-medals big), you're set. But I wouldn't recommend banking on that prospect.
And while Olympic committess generally compensate athletes for travel expenses, MoneyUnder30 says it's not always enough to cover the full costs; some athletes end up getting private cash to help foot the bill. And despite the huge revenue that the Olympic brings in, according to the U.S. Athletic Trusts, only about 10 percent of the USOC's budget went to support athletes (granted this was from 2013 figures). They report that monthly stipends, reserved for top Olympic competitors, generally range from $400 to $2,000, which, for any of you who've paid rent in the last two decades know, isn't very much to live off of. A small handful of athletes get paid housing, but not many.
As only half of U.S. track athletes bring in more than $15,000 a year from their sport, Business Insider reports, there are other ways to generate cashflow.
Where official cash prizes don't deliver, though, companies can. If you happen to be a picture-perfect sports icon that captures the hearts and mind of Americans (think Michael Phelps, Aly Raisman, Simone Biles, Ryan Lochte), companies might make a deal to translate that into consumer buying behavior. Lochte's 2012 Olympics appearance was accompanied by deals with companies like Gillette and Gatorade, amounting to millions in sponsorship dollars. But only a lucky few will get corporate sponsorships hefty enough to live on. Nike isn't necessarily going to offer a contract to an athlete without some X factor: infectious charm, an inspiring story, some endearing quality that buyers will connect with. Oh, and it helps if they've actually won a title that companies can brag about when they slap their photo in an ad.
So, to sum it up, you could get paid as an Olympic athlete — if you have the chiseled bod of a Greek statue, the charm of Tom Hiddleston, and the physical ability to execute a double half layout (Google it). We'll put it this way: Most athletes aren't bringing home bacon. The few that do are probably set.