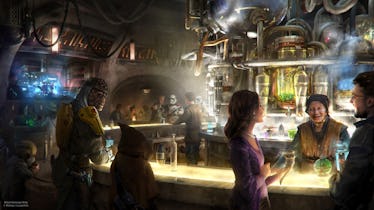 Disneyland Will Serve Booze For The First Time In The Park's History, So Get Ready
Courtesy of Disney Parks
As you would probably imagine, I have very few qualms about spending a day at "the happiest place on earth." A perfect Disneyland day would include riding Splash Mountain a thousand times, maxing out my phone storage with character selfies, and I would 100 percent indulge every single culinary experience the park has to offer — even despite the fact that it doesn't serve any alcohol. However, it was recently announced that Disneyland's Oga Cantina will serve booze for the first time in the park's history, and you probably have no idea how excited I am for it. Don't get me wrong: Disneyland is fantastic, but Disneyland combined with margaritas legitimately is a dream come true.
In a (formally dry) land far, far away (aka Disneyland in Anaheim, California), the only on-site location that served alcohol is a secret, invite-only bar called Club 33. TBH, it's super exclusive, and kind of a buzzkill. However, according to a Disney blog post from Thursday, Aug. 30, the park will open a new establishment known as Oga's Cantina, which will serve all kinds of astro-loving folk, upon opening its doors at Star Wars: Galaxy's Edge in 2019. Thus far, the park hasn't revealed too much in the way of menu details, but I'm positive that their cocktails will quite literally be out of this world. Plus, Disney usually goes all out when it comes to themes, so I'm sure you can expect some Star Wars realness when it comes to the movie-themed libations.
Aside from alcoholic beverages, the outer space-themed cantina will also be serving non-alcoholic options, as well as various choices for kids, according to the blog post. There's also going to be live music, provided by a hip new DJ called RX-24. Yes, it's the StarSpeeder 3000 pilot droid you may remember from Star Tours, and upon the opening of the cantina, he's transformed himself into an incredibly talented DJ. So, if you ask me, it's an all-around fantastic — and absolutely necessary — pitstop.
Between the theme, the DJ, and the obviously soon-to-be super cool menu, Oga's Cantina sounds pretty awesome. If you're closer to Disney World in Orlando, Florida, then you might be bummed about missing out on this new out-of-this-world watering hole — I know I would be. Thankfully, you have nothing to worry about. According to the blog post, Oga Cantina will also be opening a location in Disney World as well, so get pumped. In some cases, the West coast is the best coast, but if you're talking about Oga's Cantina, it looks like the two coasts are equally fun.
Don't get me wrong, Disneyland is an already-fantastic place — and you don't really need any alcohol to have fun there. But, a little party never hurt nobody, however, and it definitely adds to the fun of it all. Now that Oga's Cantina is planning to open up in Disneyland next year, the formerly dry park now has a "fun spot," and if you don't think I'm ordering tequila the second I get there, you are so, so wrong. Alas, my friends, it's time for me to board my space ship. But cheers, enjoy your beverages, and may the force be with you.