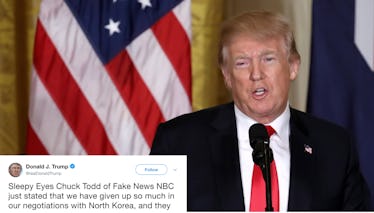 Donald Trump Doesn't Seem To Understand A Major Point About North Korea's Nuclear Weapons
Win McNamee/Getty Images News/Getty Images
President Donald Trump is getting a little ahead of himself with his latest self-praising tweetstorm about North Korea, in which he said that North Korea agreed to give up its nuclear arsenal. So, did North Korea agree to denuclearization? Trump's tweet was kind of misleading, but here's where things are at with U.S.-North Korea relations.
Trump tweeted that North Korea "agreed to denuclearization" on Sunday, April 22, but that's not yet the case. On Friday, April 20, North Korea announced it would immediately cease all nuclear and missile tests in an effort to pursue "growth and peace," according to Reuters. The announcement comes ahead of planned summits with South Korea and the U.S. in the coming months. State-run Korean Central News Agency (KCNA) reported that North Korean leader Kim Jong-un said the tests were no longer needed because the country had completed its weapons-development goals, per Reuters, and he also pledged to close nuclear testing sites.
"The northern nuclear test ground of the [Democratic People's Republic of Korea] will be dismantled to transparently guarantee the discontinuance of the nuclear test," KCNA said in a statement as reported by Reuters.
But North Korea has not vowed to give up its nuclear arsenal, as Time magazine reported, which is in line with statements Kim has made over the years, including his insisting that nukes are still a "treasured sword" for the country.
South Korean President Moon Jae-in told the press on April 20 that he believed North Korea was "expressing its commitment to complete denuclearization," according to Hankyoreh, an independent Korean newspaper. As many pundits and politicians were quick to point out, agreeing to something and showing interest in it are two very different things.
Arkansas Republican Sen. Tom Cotton told CBS's Face the Nation on Sunday, April 22, that there were a lot of remaining questions about the future of disarming North Korea.
"I think this announcement on Friday is better than continued testing, but it's not much better than that," Cotton said. "It's an easily reversible decision, and they made no announcement about their medium- or short- range ballistic missiles that threaten hundreds of thousands of Americans in Korea and Japan just like it threatens our allies there."
Why does North Korea want nuclear weapons anyway?
North Korea first began its nuclear testing operation in 2006, according to a report from The Washington Post. But the ethical question of nuclear disarmament predates North Korea's arsenal-building. The debate has raged on ever since the Cold War, as more countries continued to procure the volatile weaponry. Those in favor of nuclear disarmament typically argue that it would decrease the chances of nuclear war — intentional or accidental. Those who oppose disarmament, suggest that attempting to alter or restrict less powerful countries' arsenals is what ramps up tension and fans the flames of nuclear war.
As far as North Korea is concerned, it has been argued that the nation has good reason not to trust the U.S., which invaded Iraq even after the country had agreed to nuclear disarmament.
"How do you assure the North Koreans, when they sign a deal, that they don't end up like Saddam?" Jeffrey Lewis, a nuclear-policy expert at the Middlebury Institute of International Studies at Monterey, told Business Insider in January. "Because Saddam had actually given them the [weapons of mass destruction], and we still went ahead and said he had them, and we still went ahead and invaded."
What happens next?
South Korean officials are due to meet with North Korea later this week, and have said that Kim might be interested in disarmament, according to Time magazine. North Korea's definition of "denuclearization" is likely different than Trump's, — or the U.S.'s for that matter. Time reported that, in the past, North Korea has only spoken of disarmament on the condition that the U.S. removes its troops from the Korean Peninsula and cuts ties with South Korea and Japan.
A date and time has not yet been set for Trump's summit with North Korean leadership, but Trump tweeted on April 18 that former CIA director and current Secretary of State nominee Mike Pompeo met with Kim on Easter weekend, apparently signaling that the negotiations were going well.
"Mike Pompeo met with Kim Jong Un in North Korea last week," Trump tweeted. "Meeting went very smoothly and a good relationship was formed. Details of Summit are being worked out now. Denuclearization will be a great thing for World, but also for North Korea!"
Though tensions with North Korea appear to have cooled, there remain a lot of questions ahead of these planned summits with Kim. Trump's apparent confusion about the status of the denuclearization is uncomfortable though, since he will be the face of the U.S. in these tense negotiations.