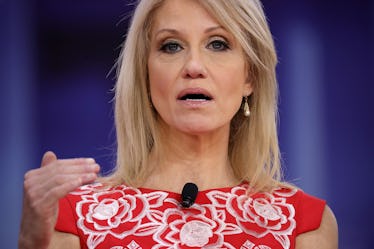 Kellyanne Conway Broke A Law & It's Up To Trump To Decide If She'll Be Punished
Chip Somodevilla/Getty Images News/Getty Images
While the White House is already dealing with plenty of turmoil, news of wrongdoing by a senior staff member added to the political drama on Tuesday, March 6. In an investigation report sent to President Donald Trump on March 6, the United States Office of Special Counsel (USOSC) found that Kellyanne Conway violated the Hatch Act by making political endorsements in her official capacity as a White House counselor to the president. All eyes are now on Trump, who has the power to decide if and how Conway will be disciplined for her violations. Elite Daily has reached out to the White House for comment, as well as for a statement from Conway regarding the violation, but did not hear back at time of publication.
The Hatch Act of 1939 prohibits government employees from making endorsements during active political campaigns. Per Special Counsel Henry Kerner, who authored the letter, Conway acted in violation of federal law when she made comments in support of and against candidates in the Alabama senatorial election in December 2017. "While federal employees may express their views about candidates as private citizens, the Hatch Act restricts employees from using their official government positions for partisan political purposes, including by influencing elections," wrote Kerner in the letter.
The USOSC found Conway's violations came during two TV appearances leading up to the special election, in which she appeared in an official capacity.
According to the USOSC document, the first occasion was during a Fox & Friends interview on Nov. 20, 2017. On the show, she advocated for why voters should not support Democratic candidate Doug Jones, and instead support GOP candidate Roy Moore, despite bad press about him. Moore had been accused of sexual misconduct involving minors as young as 14. Moore has denied the allegations, calling them "completely false and a desperate political attack" in a statement to The Washington Post. The document says that, although Conway had been given talking points from the White House Communications Office that included no references to Doug Jones, Conway on air implied that voters shouldn't back Jones. She said,
Doug Jones in Alabama? Folks, don't be fooled. ... He's weak on crime, weak on borders, he's strong on raising your taxes, he's terrible for property owners. And Doug Jones is a doctrinaire liberal which is why he's not saying anything and why the media are trying to boost him.
In the second occasion, Conway appeared on CNN's News Day on Dec. 6, 2017. Per the USOSC, the White House Communications Office had prepared a statement for Conway that mentioned Trump's phone call with Moore in which he endorsed him. However, Conway again went off-script during the interview when discussing Jones, saying, "[Trump] doesn't want a liberal Democrat in the Senate," and later adding, "God forbid people find out who he is."
The USOSC also maintains that Conway knew about the Hatch Act, thanks to an ethics training she received in January 2017 and a White House manual she was given in June 2017, both of which covered it.
It is up to the White House and President Trump to decide if Conway sees any repercussions for her actions. According to The Hill, the White House in a statement denied the USOSC's findings, saying that "Conway did not advocate for or against the election of any particular candidate."
In response to the news of the violations, the question of whether Conway will be disciplined has arisen.
"Conway isn't just any gov't employee, she works in the WH & reports directly to Trump," tweeted University of Alabama law professor and former U.S. attorney Joyce Vance on Tuesday. "The WH refuses to accept findings she violated the Hatch Act, confirming again that they follow the law only when it suits them, which isn't how our Constitution works."
On Twitter, many more people called for Conway's termination.
In a statement, the Campaign Legal Center (CLC), which advocates for strengthening democracy, noted that it was up to the White House whether and how to discipline Conway.
Walter Shaub, CLC senior director and former director of the Office of Government Ethics (OGE), called Conway's case "a slam dunk," per the statement. "OSC is now the second federal agency to find Conway in violation of ethics-related provisions," said Shaub. "Enough is enough. She has made clear that she's not interested in following government ethics rules. It's time for the President to act."
Shaub is referring to when the OGE called foul on Conway last year for using her position to promote viewers to "go buy Ivanka's stuff" after Nordstrom had announced it was pulling the younger Trump's brand off shelves. Conway was reportedly "counseled" for her plug for the first daughter, but at the time the White House declined to say if she had been disciplined further. Rep. Elijah Cummings (D-MD) apparently didn't forget about that one.
"This is not the first time that an independent government agency has recommended that the White House discipline Kellyanne Conway for breaking the law," read a tweet quoting Cummings from the House Oversight Committee Democrats handle. "POTUS must take swift and serious disciplinary action against Ms. Conway."
As of publication, it's not clear how the White House plans to proceed given the violations.