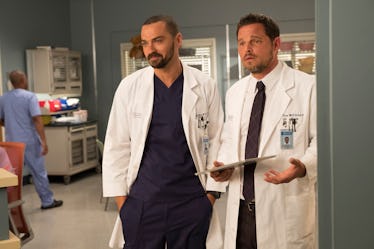 Jackson & Maggie Fans Should Be Worried About Their Relationship On 'Grey's Anatomy'
ABC
One of Grey's Anatomy's biggest surprises at the beginning of Season 15 was when Jackson took off from the hospital to "go find himself." Though fans knew actor Jesse Williams has a heavy schedule of other projects currently going on, there was hope with the removal of April Kemper from the show's roster, Jackson would be given a new direction to explore, perhaps with new love interest Maggie. But this week suggests things won't be going well when he gets back. Did Jackson cheat on Maggie on Grey's Anatomy? According to a sneak peek for this week, the answer may be yes.
When Jackson returned last week, he immediately tried to make things up with Maggie after taking off so suddenly without saying goodbye. Though Maggie had every right to be mad about the way he left — after all, everyone else got the heads up email he was taking off before she even knew about it — mostly she just seemed relieved he was back.
As far as Maggie seemed to be concerned, Jackson had done his thing at a monastery and spent some time trying to figure out his inner spiritual life. Now the two of them could proceed with their relationship, and perhaps have a return to normality.
But this week's trailer suggests their trouble in paradise. In the clip for this week's episode "Anybody Have a Map?," Maggie is shown confronting Jackson with something and asking in an accusatory manner: "You're seeing other women?" Now TVGuide has more to the story.
[An] exclusive sneak peek of Thursday's episode, titled "Anybody Have a Map?," Maggie makes a startling discovery: a mysterious woman has been texting Jackson with heart Emojis and telling him she misses him. Wait, what?
Click here to see the video.
Listen, if Jackson said: "Yes, I went to find myself and accidentally found me inside another woman," it would be one thing. (He wouldn't be the first, not by a long shot.) But instead, according to the clip, he insists this finding of himself with other women, or at least a woman named Kate, was all above board.
I met someone when I was at the monastery. No, I didn't sleep with anybody. I didn't even kiss her. It's not about that. We talked.
Jackson and Kate apparently talked enough she's now sending him emoji hearts. How much more of this nonsense is Maggie really going to accept from Jackson before tossing him out on his ear?
Here's the episode's full synopsis, which sadly does not give any hint on how Maggie takes all this:
Catherine is in Los Angeles getting the new foundation ready and summons Meredith and Koracick to visit for a highly confidential consult. Meanwhile, one of the nurses is 28 weeks pregnant and collapses at the hospital while talking to Richard... Guest starring is Debbie Allen as Catherine Fox and Greg Germann as Tom Koracick.
Grey's Anatomy Season 15 continues on Thursday, Nov. 8, 2018, at 8 p.m. ET, followed by Station 19 Season 2 at 9 p.m. ET on ABC.