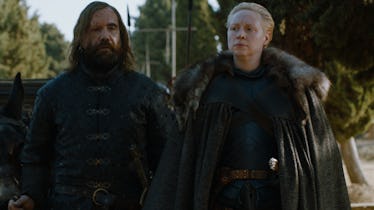 'Game Of Thrones' Broke A Major Record At The SAG Awards & You Probably Had No Idea
HBO
This hasn't been Game of Thrones' year so far, award-wise. The show which was once the fresh and new series that everyone aspired to is now the granddaddy, finding itself listed as Season 7, while all the competitors in the Best or Outstanding Drama categories are all freshmen and sophomores, taking home wins for their fresh and new takes. It didn't help that the Emmys June-June awards calendar meant that Season 7 wouldn't be honored until 2018, despite the series airing in July and August of 2017. But did Game Of Thrones win at the SAG Awards? Well, yes and no.
The show was nominated in three categories this evening for Season 7. First up was Peter Dinkalge for Outstanding Performance by a Male Actor in a Drama Series. The show's second nomination was for Outstanding Performance by an Ensemble in a Drama Series.
Finally, the show was nominated for Outstanding Action Performance by a Stunt Ensemble in a Comedy or Drama Series, a category they have never lost since the show started airing in 2011. Despite the fear they might finally fall to Netflix's GLOW, GoT took that award home once again, and they have now a record-breaking seven wins in the Stunt category after tonight.
Dinklage wasn't expected to win Outstanding Performance by a Male Actor in a Drama Series, and he didn't. Instead, that category when to Sterling K. Brown of This Is Us, as expected. The winner of the Outstanding Performance by an Ensemble in a Drama Series also went to This Is Us, which was only a slight surprise. Though Game of Thrones has taken that award home before, it's really been hit or miss.
The SAG Awards have been a friendlier award ceremony to the HBO drama over the years. One reason is that, due to the way the source material functions from the novel, it's not a traditional fantasy series. In the early years there was no "Lead Actor" or "Lead Actress" to easily define the show. No "Jon Hamm is Don Draper." No "Bryan Cranston is Walter White."
This made it difficult to land wins in award settings like the Emmys or the Golden Globes, who only honor singular performances by actors and actresses. Game of Thrones is an ensemble piece in every sense of the word. It's why those two have been their lucky categories over the years.
Actors understand that a lead performance, though good, doesn't always encompass the best performances in television and movies. Acting is a collaborative process. That's why they (and they alone) have "Outstanding Ensemble" categories. This reveals an entirely different mindset at work than over at some of the other awards shows: one that is far friendlier to a series like Game of Thrones, where the ensemble work the cast is doing is something fresh to behold every season they do it.
Part of what keeps Game of Thrones' ensemble fresh is the ever-changing nature. For years, it was a bit of a joke. The show killed off main characters left and right, and then, every summer, it announced a new slate of leads that were hired from George R.R. Martin's cast of thousands from the books who would come aboard. So while Season 1 was an ensemble show featuring Sean Bean and Peter Dinklage, by Season 3, it had become one featuring Diana Rigg and Charles Dance. And by Season 5, it was one featuring Lena Headey and Kit Harington.
This constant turnover means that it can be nominated every year for the category, and every year, they're practically voting for a completely different show. That may seem a little weird and strange for fans to think about, but it's the sort of thing that gets actors jazzed about the possibilities that have been opened up by the event of prestige TV.