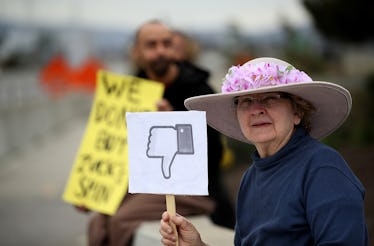 This Is How To Find Out If Your Facebook Data Was Stolen In The Latest Big Scandal
Justin Sullivan/Getty Images News/Getty Images
Facebook remains on America's sh*t list. Reports last month that a data-mining company allegedly mishandled information on about 87 million Facebook users drew criticism of the company's privacy policies, but many questions remain about the controversy. Did Cambridge Analytica have your Facebook data? New app features are launching on Monday, April 9, that will tell you if your data was part of the controversy.
About 70 million of the 87 million allegedly affected users are reported to be in the U.S., according to Facebook, which has designed a notification system to let you know if your information was compromised. If your data was not compromised through any specific apps you used, a generic notification should appear sometime on Monday, April 9, to remind you of privacy settings available to you — as depicted below on the left. If your data may have been breached, the notification (below, on the right) will provide you with more concrete details about what apps may have been involved.
Details might include the app that compromised your data, what kind of data may have been released — though the company doesn't know for sure — and what corrective action Facebook has taken with regard to that specific app.
"Overall, we believe these changes will better protect people's information while still enabling developers to create useful experiences," Mike Schroepfer, Facebook's chief technology officer, said in a statement. "We know we have more work to do — and we'll keep you updated as we make more changes."
Initial estimates placed the alleged breach at about 50 million users, but Facebook's revised estimates have since placed that figure higher. Cambridge Analytica disputed this, however, saying in an April 4 statement, "[We] licensed data for no more than 30 million people from GSR, as is clearly stated in our contract with the research company. We did not receive more data than this."
In the days after the news of the alleged breach initially broke, Zuckerberg told CNN that he was sorry for the errors. "This was a major breach of trust, and I'm really sorry that this happened," he said. "You know, we have a basic responsibility to protect people's data and if we can't do that then we don't deserve to have the opportunity to serve people."
Just this weekend, Facebook cut ties with two more data analytics companies — CubeYou and AggregateIQ, per Gizmodo — for allegedly misusing data. CubeYou denied any wrongdoing to CNBC. Elite Daily reached out to AggregateIQ for comment but did not hear back before publication.
The European Union's General Data Protection Regulation (GDPR), which will replace a previous privacy law from 1995 next month, strictly enforces data controllers to clearly explain to people what personal data they intend to collect and for what exact purpose, and some have called for these measures to be enacted in the United States as well, to better protect user privacy. On April 4, Zuckerberg said in a call with reporters, "We intend to make the same [privacy] settings available everywhere, not only in Europe." He added that the company is figuring out "what makes sense in different markets with the different laws and different places," but, "we'll make all controls and settings the same everywhere, not just in Europe."
Zuckerberg is reportedly meeting with lawmakers on Monday, April 9, ahead of his congressional testimony this week — he's due to appear before a joint hearing of the U.S. Senate Judiciary and Commerce committees on Tuesday, April 10, and the U.S. House Energy and Commerce Committee on Wednesday, April 11. He is also reported to be taking the testimony very seriously, per Gizmodo, hiring serious legal experts including a former advisor to President George W. Bush and former legal counsel for Florida Governor Jeb Bush. The New York Times reported that Facebook's strategy for this week is to change its public image "from a defiant, secretive behemoth into a contrite paragon of openness," and that Zuckerberg was preparing via a makeshift "crash course in humility and charm." Zuckerberg's prepared testimony for Wednesday was released on Monday, in which he acknowledges that Facebook "didn't do enough to prevent these tools from being used for harm," and that Facebook is taking actions to prevent something like this from happening again.
Some have become increasingly frustrated by Facebook's handling of the alleged data breach, forcing the company to scramble to reassure users.
Facebook seems to genuinely want help in remediating the public outcry about privacy on the social media site. On Monday, April 9, it also announced a streamlined process for academic researchers to investigate the impact the tech giant might have had on major elections around the world.
Facebook's Elliot Schrage, the vice president of communications and public policy, and David Ginsberg, director of research, released a joint statement on April 9 announcing the initiative.
"First, we think it's an important new model for partnerships between industry and academia," the statement read. "Second, the last two years have taught us that the same Facebook tools that help politicians connect with their constituents — and different communities debate the issues they care about — can also be misused to manipulate and deceive."
Twitter was abuzz Monday morning as Steve Wozniak was the latest influential figure in technology to announce he was joining the #DeleteFacebook movement. Wozniak follows Tesla CEO Elon Musk, Brian Acton, a cofounder of WhatsApp, and several celebrities, including comedians Will Ferrell and Jim Carrey, who have each left the platform over privacy concerns.
If you are one of 87 million users whose data may have allegedly been compromised, and you'd like to watch Zuckerberg testify, he'll appear on Tuesday, April 10, at 2:15 p.m. ET, and you can watch on the Senate Judiciary Committee's livestream. On Wednesday, April 11, at 10 a.m. ET, you can tune in on the House Energy and Commerce committee's YouTube channel, or on C-Span.