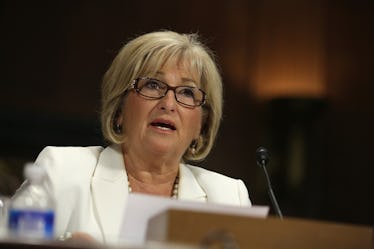 A GOP Lawmaker Said Porn Is Partly To Blame For School Shootings, & Uh, What Now?
Alex Wong/Getty Images News/Getty Images
In the last few weeks, conservatives have been offering up lots of reasons for gun violence in schools. Well, except one: guns. Instead, conservative lawmakers and pundits have suggested other causes, including too many entrances and even ADD medication. And now we can add one more to the list because, on May 23, Rep. Diane Black linked school shooting to porn. Um, what?
Black, a Republican who is also running for governor of Tennessee, told a crowd of ministers gathered for a listening session with her in Clarksville, Tennessee that she's been wondering what could be the root causes of gun violence in schools, according to the Huffington Post. "Why are we seeing kids being so violent?" she reportedly asked, according to a recording of the session. "Pornography," she said, after discussing how "deterioration of family" and violent movies, which she said were desensitizing young people, could also be causes.
She continued:
It's available on the shelf when you walk in the grocery store. Yeah, you have to reach up to get it, but there's pornography there. All of this is available without parental guidance. I think that is a big part of the root cause.
She did not elaborate on what about pornography might lead to violence in schools. A spokesperson for Black did not immediately respond to Elite Daily's request for comment or clarification.
The listening session came less than a week after a shooting at Santa Fe Middle School where a student opened fire on Mayy 18, killing at least 10 people, according to USA Today. Santa Fe was the most deadly shooting since a gunman killed at least 17 people at Marjory Stoneman Douglas High School in Parkland, Florida on Feb. 14.
Black's are just the latest in a string of comments from politicians and pundits that give reasons for schools shootings other than guns. Following the shooting in Santa Fe, conservative figures attributed the shooting to everything from the amount of doors to Ritalin.
On CNN's State Of The Union on May 20, Texas Lt. Gov. Dan Patrick said the high school had too many entrances and exits for guards to cover on May 18. Instead, he suggested, that officials should look at the designs of schools so law enforcement can more closely monitor who is coming and going, according to CNN. The same day, National Rifle Association (NRA) President Oliver North said on Fox News Sunday that part of the problem was young people being "drugged," which he later explained was Ritalin, a medication commonly prescribed for Attention Deficit Disorder (ADD). Oh, but that's not all. Conservative pundit Hugh Hewitt suggested that schools should screen for "creepy people." How do you tell who's creepy? Apparently, a trench coat. "To the teachers and administrators out there, the trench coat is kind of a giveaway," the MSNBC host said during his radio show on May 21, according to the Huffington Post.
But not all conservatives are on board with these ideas. Former Republican National Committee (RNC) chairman Michael Steele was sharp-tongued in his response to the way other conservatives were responding to school shootings, and specifically the shooting in Santa Fe.
He told The Atlantic:
Simply put, the response to Santa Fe, like Parkland, has been defensive and tone deaf. Our arrogance and tribalism has drowned out the voices of the innocent to the point that it is easier to make excuses for the status quo than it is to protect our children.
Although the root causes of school shootings aren't completely known, experts have ruled out a few causes: including violent video games and porn. In his book Why Kids Kill: Inside the Minds of School Shooters, psychologist Peter Langman found that violent video games and movies only marginally affect shooters' decisions, as the South Florida Sun Sentinel noted. As for the question of porn's culpability, Dr. Rachel O'Neill, a licensed counselor, told Teen Vogue that there isn't one single cause and blaming porn is misguided. She said,
The reality is, there are likely a number of reasons why there is an increase in gun-related violence. Moreover, to blame pornography for gun violence misses the bigger picture that there are many countries in which pornography and prostitution are legal and yet those countries don't necessarily also have elevated rates of gun violence and school shootings.
The shooting in Santa Fe was the 22nd shooting on school grounds this year, according to CNN — and it's not even the most recent. Just a few days later, on May 25, two people were injured when a student opened fire in a middle school in Noblesville, Indiana. That means there have been 23 shootings on school grounds this year, creating an average of one school shooting per week in 2018, according to CNN.
A rate of one shooting per week should blow my mind, but, sadly, it doesn't. Contrary to what Rep. Black thinks, it seems to me that the only thing desensitizing young people (or any people for that matter) is the frequency of actual violence we're seeing and experiencing far too often in schools. Could pornography be even partly to blame for that violence? Somehow, I doubt it.