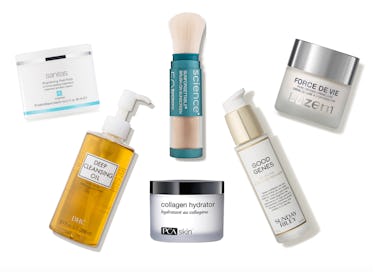 Dermstore's Anniversary Sale Is Happening RN, So Get Ready To Empty Your Wallet
Dermstore
Using high-end products to achieve perfect skin can definitely get pricey after a while. That said, there is nothing (and I mean nothing) that beauty junkies love more than a good deal, so Dermstore's anniversary sale is the perfect time to stock up on all your favorite products before the colder months come to wreak havoc on your skin. And the best part about Dermstore, aside from their current 25 percent off deal, is that it can be your all-in-one online stop to find everything from skincare to makeup to haircare to all-natural products as well. But, like all good things, the sale will end come Aug. 19. Still, that gives you a little time to shop all of these amazing specials!
Now if you're someone who tends to get a bit overwhelmed by a sale as good as this one, and you don't know where to start, I've got you covered. Whether you're looking for a top-notch brightening serum, a new mascara, or the latest vegan cleanser, rest assured that Dermstore has a little something for every type of beauty lover out there — just make sure to enter "BIRTHDAY" at checkout to get your full discount. But enough out of me, let's get to shopping, people!
If you're looking to exfoliate without the use of harsh scrubs, then the Brightening Peel Pads from Sanitas may be just what you're looking for. Not only do these pads brighten and smooth the skin, they also work to clear pores of bacteria and other impurities — so you'll have a clear, healthy glow in no time.
As much as most of us don't want to face it, winter is coming sooner than we think. But you can prep your skin for the harsh weather with PCA's Skin Collagen Hydrator, which has been formulated specifically to keep skin moisturized in cold and dry weather.
This afforable mascara from By Terry promises to not only lengthen and thicken eyelashes, but it also boasts a nourishing formula infused with green tea, jojoba, olive oil, and more to protect lashes from any breakage.
In my opinion, you cannot go wrong with Sunday Riley — and the brand's C.E.O. Rapid Flash Brightening Serum is one of their best. This serum, containing 15 percent THD ascorbate, otherwise known as vitamin C, targets dark spots and dullness to give your skin a rejuvenated, radiant glow.
If you need a little more vitamin C in your regime, Obagi offers a 20 percent serum that works for all skin types to brighten, encourage collagen growth, and protect against UV damage.
This nourishing oil cleanser works hard to clear your skin of dirt, makeup, and — believe it or not — oil as well. It's also infused with olive oil and vitamin E, which work to hydrate and repair the skin.
If you're worried that traditional sunscreens will leave your makeup looking a greasy mess, Colorescience has the perfect solution for you. Boasting SPF 50 coverage, this mineral powder sunscreen can be used to give your look a clean, matte finish, all while protecting you from the sun's harmful UV rays.
With a formula containing hyaluronic acid, aloe vera, green tea, and vitamin E, this product will not only nourish your skin, but also rid your skin of fine lines to give you a glorious glow that will last year-round.
This blowdryer technically isn't a part of anniversary sale, since it's already marked down at 25 percent off, but it's such a great steal that I'd be doing you a disservice if I didn't let you know about it. This gorgeous tool is not only lightweight, but has been reimagined to cut down drying time without being too harsh on the hair.
If you haven't had much time to enjoy the sun these past few months, then adding in a couple drops of James Read's H2O Tan Drops Face to your morning routine will help you achieve a nice summer glow without the sun damage.
Many of us are so busy trying to get healthy-looking hair that we forget that our scalp needs love, too! This Scalp Shampoo from Sachajuan works to hydrate the scalp and alleviate dryness, and also contains salicylic acid to get rid of any flakey, dry skin sitting on the surface. Not only will your hair be looking great, but your scalp will be nourished as well.
Finding a deal on Sunday Riley products is pretty rare. So if you want plumper, smoother-looking skin, then this is the perfect time to snatch up this amazing product! But if you're looking at the price (even after the discount) and wondering if you should give in, according to the Dermstore website, clinical studies have shown that 100 percent of women who tried this product said their skin looked immediately smoother and more radiant after applying.