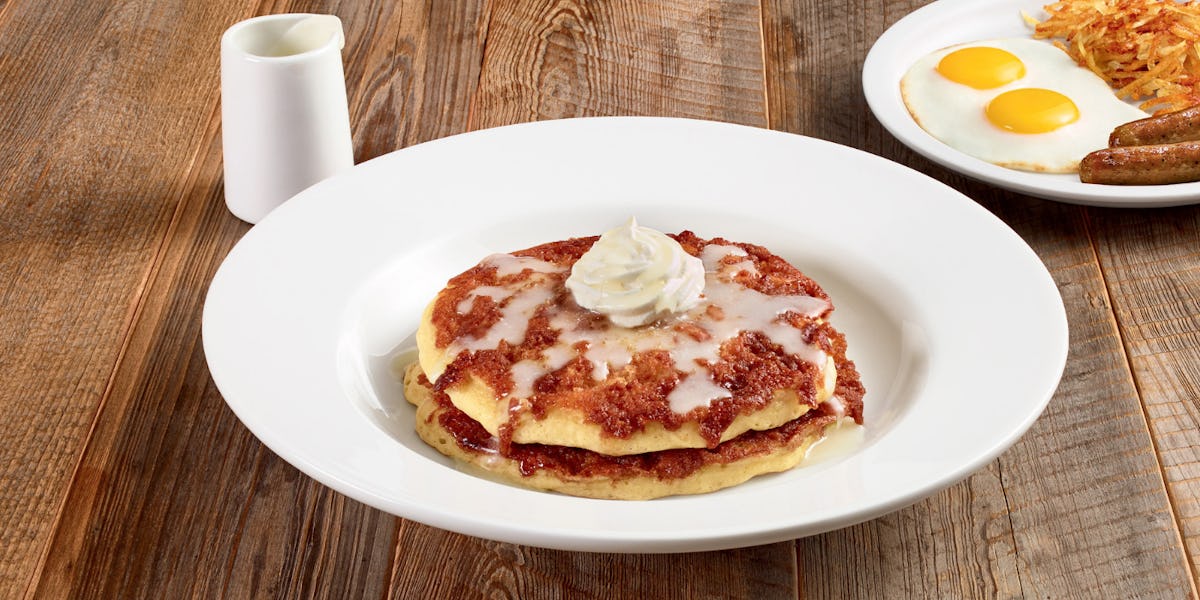 Denny's Is Selling Cinnamon Roll-Inspired Pancakes For A Decadent AF Breakfast
Denny's
Forget unwrapping presents this holiday season, because Denny's new "Festive Flavors" menu is a gift all of its own. There are a lot of tasty new foods hitting the menu, but none quite as appetizing as Denny's' Cinnamon Roll Pancake Breakfast. It's a hearty helping of one of my favorite breakfast foods.
Denny's' Cinnamon Roll Pancake Breakfast is available as of Wednesday, Oct. 10, at locations nationwide. Just because the title contains the word breakfast doesn't mean you're limited to enjoying this sinfully sweet dish in the morning. Denny's is open 24 hours a day, seven days a week. Whenever your craving strikes, you can be sure that Denny's will deliver on its promise to serve the scrumptious Cinnamon Roll Pancake Breakfast morning, noon, and night.
So, what exactly is this holy creation better known as the Cinnamon Roll Pancake Breakfast? The name divulges a few obvious details, but this "Festive Flavors" menu item is full of hidden surprises. Let's talk about the pancakes first. The griddle cakes are made with a rich and delectable buttermilk batter for a buttery taste. Now for the surprise: the inside of each pancake features a cinnamon crumb topping that's baked to perfection, according to Denny's. When you cut into the pancakes, expect to be greeted by the seasonal tastes of sugar and spice.
Is your mouthwatering yet? Good, because we are just getting started. Atop the double stack of golden pancakes is a pillowy helping of freshly-made whipped cream. The toppings don't stop there. The Cinnamon Roll Pancake Breakfast is served with a side of cream cheese icing (because it wouldn't be cinnamon rolls without this crucial garnish).
There's more. To accompany the pair of hot cakes, Denny's is cooking up an entire spread of your favorite breakfast foods. The Cinnamon Roll Pancake Breakfast also includes two eggs cooked however you'd like, a side of hash browns, and your choice of two bacon strips or sausage links. This glorious meal is complete and total perfection.
"As America's Diner, we pride ourselves on bringing family and friends together over a delicious meal all throughout the year," John Dillon, chief marketing officer for Denny's, said in a press release. "And during the holidays, we aim to deliver on that promise and so much more. Whether it is in one of our booths, around a family dining table or even on opposite sides of the country, our guests can enjoy a warm, hearty meal wherever their holiday travel takes them."
In addition to the Cinnamon Roll Pancake Breakfast, there are several other new items on the "Festive Flavors" menu that are worth noting. Denny's other seasonal menu offerings include the Pumpkin Spice Pancake Breakfast, Holiday Turkey Melt, Pumpkin Pie Milkshake, and Turkey & Dressing Dinner. Suffice to say, no matter what you're craving, there's plenty to choose from on Denny's' "Festive Flavors" menu.
The holiday season is just getting started, so you've got time to enjoy these new festive offerings. The "Festive Flavors" menu is available at Denny's locations across the country now through Tuesday, Jan. 8. Bon appétit!