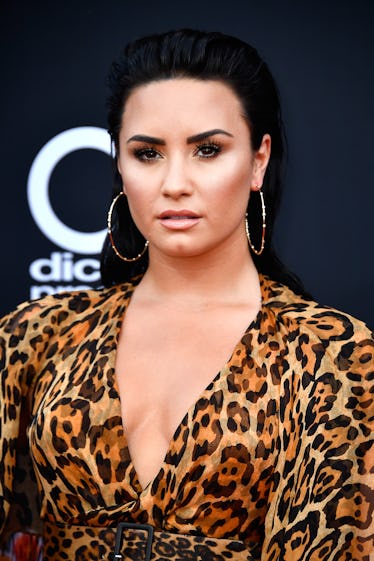 Demi Lovato Just Posted Her First Instagram After Rehab
Frazer Harrison/Getty Images Entertainment/Getty Images
Demi Lovato is urging her fans to vote with a new Instagram post! The post, which was published on Tuesday, Nov. 6, and is her first post in over three months, shows Lovato getting ready to cast her vote for the 2018 midterm elections. And she looks super happy to be doing it! Demi Lovato's first Instagram after rehab is exactly what you'd expect it to be: powerful and inspiring!
While it's unclear whether Lovato is totally finished with rehab, she's definitely home and she's also been enjoying outings every now and then with friends. In any case, it looks like Lovato is enjoying the privilege of voting as is evidenced by her latest Instagram post. So, that's really great to see!
In the caption of the post, Lovato explained that she was thrilled to be home in time to vote. And then she told her fans how important their voices are in this election, too. "I am so grateful to be home in time to vote!" Lovato wrote in the caption. "One vote can make a difference, so make sure your voice is heard!🗳 🇺🇸 now go out and #VOTE!!!!"
Check out Lovato's post down below:
Lovato's post comes just over three months after she was reportedly hospitalized for an overdose on July 24. TMZ first broke the news of Lovato's hospitalization. Lovato has lived with addiction for just about as long as she's been in the public eye. According to People, she was reportedly treated back in 2011 for bipolar disorder, self-harm, and addiction. She relapsed shortly after and then reportedly entered a sober living facility for a year. After that stint in rehab, she was sober from 2012 until 2018. So, it's been a long journey for Lovato.
On Aug. 5, Lovato broke her silence about the hospitalization. In a now-deleted Instagram post, Lovato shared her feelings about the whole situation with her fans. Demi's post read:
I have always been transparent about my journey with addiction. What I've learned is that this illness is not something that disappears or fades with time. It is something I must continue to overcome and have not done yet. I want to thank God for keeping me alive and well. To my fans, I am forever grateful for all of your love and support throughout this past week and beyond. Your positive thoughts and prayers have helped me navigate through this difficult time. I want to thank my family, my team, and the staff at Cedars-Sinai who have been by side this entire time. Without them I wouldn't be here writing this letter to all of you. I now need time to heal and focus on my sobriety and road to recovery. The love you have all shown me will never be forgotten and I look forward to the day where I can say I came out on the other side. I will keep fighting.
And now, just three months after publishing those powerful words, she's made another powerful statement with her post to encourage her fans to vote. It's wonderful that she's using her voice and platform for such important issues. She's an inspiration, for sure!