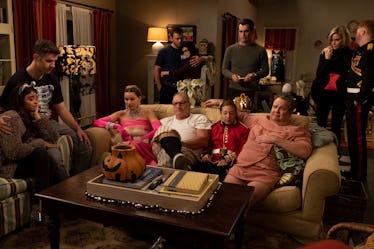 The 'Modern Family' Creator Explained The Real Reason Why The Show Needed A Death
ABC/Tony Rivetti
Modern Family's traditionally riotous Halloween episode turned grim this year when the ABC comedy included the death of a longtime recurring character among its holiday antics. The show has teased the official end of a familiar character since before its 10th season launched in September, and fans finally know who the family will mourn for the next few weeks of episodes. DeDe Pritchett's death on Modern Family has viewers grieving on Twitter, and the show's co-creator opened up about why DeDe was the one to die.
After several appearances as Claire and Mitchell's mother and Jay's ex-wife, Shelley Long's DeDe passed away as the family carried out their Halloween tradition of intricate costumes. Halfway through the night, the clan received news that DeDe died in her sleep while on a trip with her women's group, prompting some emotional revelations from her kids and ex-husband. Such reflection this late into the series' run was motivation for the character's passing, as Modern Family co-creator and co-showrunner Steve Levitan told The Hollywood Reporter:
It occurred to us that death is a giant part of the family experience and while Phil (Ty Burrell) had lost his mother in a previous episode, we've never seen the entire family have to deal with such a loss. It seemed like an interesting thing to have happen...[DeDe's] directly involved with three of our characters and she touched everybody's life in some interesting way. It seemed like the right character to put everybody through something.
While Mitch (Jesse Tyler Ferguson) was considered DeDe's favorite child, her relationships with Claire (Julie Bown) and Jay (Ed O'Neill) were more complicated, and that tension shone through after the family learned about her death. Jay reminisced about a certain kind of sandwich DeDe made him early in their marriage, and Mitch and Claire's moods bounced up and down, eventually leading to their disagreements about how to remember their mother. Phil and Cam (Eric Stonestreet) tried to support their spouses with varying results, while Gloria (Sofia Vergara) worried that DeDe would haunt her.
As fans grew to know DeDe as well as the Pritchett-Dunphy families did, several mournful messages hit Twitter after the episode aired.
However, as the death was originally teased as a "significant" character passing away, other viewers were just thankful that the main cast was left untouched.
Following the bleak Halloween news, Levitan also revealed how the storyline of DeDe's death will continue. He told THR, "We do a follow-up episode where DeDe's widower brings a bunch of things to various members of the family that she wanted each of them to have and [viewers will see] the effect that has on each of them."
Although killing off a close family member would be a wise move for what may become the show's last season, Levitan also hinted that more Modern Family is in store. He told the publication:
I thought season 10 was going to be it. I think everyone has said season 11 is it. If we were to do it, season 11 would be it, for sure. And I'm not sure it would be a full season. We're all trying to figure that out.
Let's hope that an eleventh season wouldn't entail another family member's death. Season 10 of Modern Family continues on Wednesday, Nov. 7, at 9 p.m. ET on ABC.