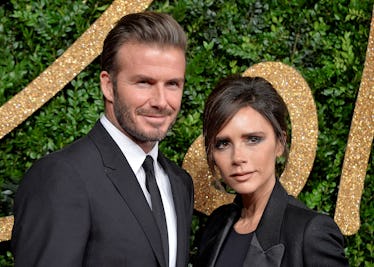 David & Victoria Beckham's Gushy Posts For Harper's 7th Birthday Prove They're So Happy
Anthony Harvey/Getty Images Entertainment/Getty Images
David and Victoria Beckham may have been facing an onslaught of divorce rumors, but that's not stopping them from giving their daughter Harper the best birthday party ever. Little Harper, who is the Beckhams' youngest child and only daughter, celebrated her seventh birthday on Tuesday, July 10. And mommy and daddy are all about showing their little girl some love. Actually, David and Victoria Beckham's birthday posts for Harper are just about the cutest thing you'll see all week.
Both David and Victoria posted special messages for their daughter on her birthday. David, of course, had the most to say about his "little princess" since they're like two peas in a pod. He posted this incredibly sweet message on his official Instagram account:
What can I say about my little princess other than she is perfect in every possible way. Harper Seven has turned 7. Happy birthday to my big girl!! This little one is so loved by her brothers, mummy and daddy...special, special little girl ♥️ Makes me smile every single day ♥️
The proud dad also shared a pic of himself and Harper having a bit of outdoor fun. By the looks of things, they went a little country for the photo. David's sporting what appears to be a straw hat, while Harper is in her best pair of overalls.
Here's a look at the pic:
Equally proud mom Victoria posted a slew of pics for Harper's birthday. The very first was a sweet photo of herself with Harper and son Romeo.
"Happy Birthday baby girl x We love u so so much x so many kisses!!! X Mummy,Daddy,Brooklyn, Romeo and Cruzie x," she wrote in her Instagram post.
The former Spice Girl also posted two other photos: one of Harper with a customized balloon and another of her daughter posing with her unicorn birthday cake (which looks amazing, btw).
"Happy Birthday Harper Seven!!! X Special day with family and friends to celebrate.We love u baby girl !💕💕💕💕x," Victoria said in one of her posts.
Harper's brothers even chimed in on social media to wish their little sister the happiest of birthdays.
Older brother Romeo took to his Instagram account as well to say how much he loved his sister.
"I can't believe you are 7 now Harper !! Such a big girl ❤️," he wrote. "we all love u so so much I couldn't ask for a better sister !! Love u so so much hope you have a lovely day ❤️"
How sweet is that?!
The eldest Beckham son, Brooklyn, also posted a sweet message on Instagram for Harper's birthday. In an Instagram Story, Brooklyn shared a photo of Harper's brand new roller skates.
"Happy birthday Harper seven Beckham xxxx love you," he captioned the photo.
On top of all that birthday love, the Beckhams posted even more to their Instagram stories. There are photos galore of Harper's birthday presents and balloons.
Needless to say, this birthday party was a big deal for the family. They obviously love each other a great deal and enjoy a good celebration. Considering how cohesive a unit this family seems to be, it's strange to think that David and Victoria have battled divorce rumors as of late. Back in June 2018, David Beckham's rep gave a statement to Mirror Online regarding the rumors, saying, "There is no statement due or divorce. This is just fake social media news. This is all very bizarre and an embarrassing waste of time." Elite Daily reached out to both Victoria and David's teams for comment on the divorce rumors but did not hear back by the time of publication.
Despite the rumors, the Beckhams celebrated their 19th wedding anniversary on July 4 and now they're looking every inch the happy couple celebrating their daughter's birthday.