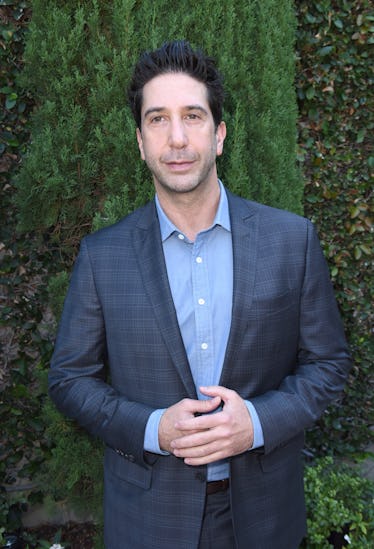 David Schwimmer Will Guest Star On 'Will & Grace' Because The '90s Are Back
Vivien Killilea/Getty Images Entertainment/Getty Images
NBC is about to make all your '90s Must See TV dreams come true in 2018. No — Friends isn't coming back, but David Scwimmer will guest star on Will & Grace's revival for its upcoming season. The sitcom alum is set to play Grace Adler's (Debra Messing) love interest in a recurring role. While the network has not revealed much about his character, Deadline reports that his arc will potentially last up to five episodes.
Will & Grace proved to have a successful resurgance when it debuted in 2017. The groundbreaking series has already been renewed for a third season ahead of its Season 2 premiere and earned two Emmy nominations and two Golden Globe nods. Season 10 is set to premiere on Oct. 4 and in addition to Schwimmer, will feature notable guest stars such as Chelsea Handler and Alec Baldwin (who played Karen's (Megan Mullally) lover Malcolm in Season 9). Further details about what to expect when the show returns in the fall have been rolling in.
"The first episode that Dave and I are writing is titled, "Where in the World is Karen Walker?", and we can let you read into that as much or as little as you want," creator Max Mutchkin teased to Deadline on what's to come.
And are changes a-brewin' for Will and Grace's living arrangements?
"The one thing we're always playing with is the actual living together part of it. The show is at its quirkiest when they're sharing a place. But that may have to change, they are grown-ups," Will McCormack hinted to TV Guide.
If Grace has a new guy in her life in the form of an actor previously known as Ross Geller, that may very well shake things up. Will & Grace is no stranger to expect guest and cameo casting — the show's history of including iconic celebs is legendary. Britney Spears, Cher, and Madonna all had their own Will & Grace moments. Jennifer Lopez appeared on show last season. Schwimmer isn't quite in the pop superstar category, but his association with a beloved TV show with similar sitcom roots makes him a great comedic/nostalgic fit.
Schwimmer has been keeping plenty busy in the past few years. His short-lived AMC crime drama Feed The Beast may have been canceled after one season in 2016, but he did make a memorable turn as famed attorney Robert Kardashian in one of the most critically acclaimed and buzzed-about series that same year — The People v. O.J. Simpson: American Crime Story. He even received an Emmy nod for the part. David also starred in and executive produced a series of dramatized short films about sexual harassment in the workplace called That's Harassment. The PSAs aired on Starz as part of a primetime special.
David Schwimmer has appeared in two comedic projects starring his former Friends co-stars — Lisa Kudrow's Web Therapy and Matt LeBlanc's Episodes. I'm sure longtime fans will welcome him back to the sitcom game with open arms considering he's such a seasoned pro. Molly Shannon's guest spot on last season's Will & Grace earned her an Emmy nod... perhaps Schwimmer will get the chance to finally add the statue to his shelf now that it's his turn.
Will & Grace returns to NBC on Thursday, Oct. 4.