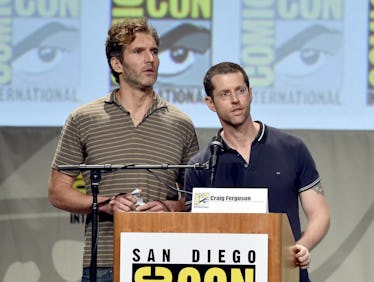 'Game Of Thrones' Fans Are Freaking Out Over This 'Star Wars' News
Kevin Winter/Getty Images Entertainment/Getty Images
If you're bummed about this upcoming Game of Thrones season being the last one in this HBO series, fear not. That's because the fantastic showrunner duo responsible for bringing George R. R. Martin's books to life have made a major announcement today. David Benioff and D.B. Weiss will make new Star Wars movies and will get to create a entirely new series of films. Yes, you heard that right. Two of the greatest franchises in the history of entertainment are finally (sort of) coming together. And GoT fans are seriously freaking out over this amazing news.
If you've been dreaming about these two fantasy worlds somehow merging, today is your lucky day. It was announced on Feb. 6 that once Benioff and Weiss wrap their work with GoT they will begin developing a new series of Star Wars films, further expanding the already massive Star Wars universe. The president of Lucasfilm Kathleen Kennedy said in the announcement,
David and Dan are some of the best storytellers working today. Their command of complex characters, depth of story and richness of mythology will break new ground and boldly push Star Wars in ways I find incredibly exciting.
And fans of both franchises naturally started freaking out on Twitter.
This is quite possibly a dream come true for die-hard Star Wars and GoT nerds. And from the sound if it, it seems that Weiss and Benioff have been dreaming about this for a long time as well. The two show runners expressed their excitement in a joint statement, saying,
In the summer of 1977 we traveled to a galaxy far, far away, and we've been dreaming of it ever since. We are honored by the opportunity, a little terrified by the responsibility, and so excited to get started as soon as the final season of Game of Thrones is complete.
As exciting as this must be for the two of them, you might notice that Benioff and Weiss also say that they're "a little terrified" — and for good reason. Star Wars is the single greatest franchise in history (obviously), so having the task of expanding and creating new stories within this universe comes with a lot of weight.
Consider the insane backlash that the franchise's latest film, Star Wars: The Last Jedi received. This was director Rian Johnson's first installment in the saga, and received positive critics reviews while bringing in $220 million in its opening weekend. But despite receiving a 91 percent score on Rotten Tomatoes, the audience score sits far below that rating at 48 percent.
Why did this film get so much hate from fans? Star Wars superfan and filmmaker Kevin Smith explained that is has a lot to do with audience expectation. In his "Fatman On Batman" podcast he said,
Some people, it hit them the wrong way in a big way. I've seen, it's not just people going like, 'Oh, I didn't like it,' when they don't like it. It's vitriolic, as if somebody f*cked up their childhood ... I think at the end of the day, audience expectation plays into [the backlash].
So yeah, there's a lot riding on Benioff and Weiss with these upcoming films that they're set to create within the Star Wars universe. Whether you're jumping out if your chair excited, or nervous that these two will butcher the franchise, I think we can all agree that further expanding the Star Wars universe is something to be happy about. Who knows? Maybe Benioff and Weiss will create the best films outside of the original trilogy that the world has ever seen? Anything is possible, am I right?