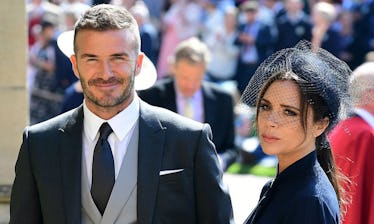 The Father Of David Beckham's Rumored Mistress Just Slammed Cheating Rumors Once & For All
Ian West - WPA Pool
There have been so many celebrity breakups lately that I really don't think I can handle another one. Jennifer Aniston and Justin Theroux. Nikki Bella and John Cena. Jenna Dewan and Channing Tatum. Still not over that last one, BTW. So when rumors first started swirling that David Beckham had reportedly stepped out on his wife, Victoria, with their daughter's teacher and the couple was headed for Splitsville, I seriously started to lose it. Not Posh and Becks, too! Well, you'll be happy to know that David Beckham's rumored mistress' father broke his silence on those cheating rumors. The big take away here? It's time to pop the champs, guys, because it's all apparently FAKE NEWS. Elite Daily reached out to David and Victoria Beckham's teams for comment on the report, but did not hear back by the time of publication.
"My daughter has never even met him. End of story," he reportedly told The Sun. "This is ridiculous. We have no idea where it has come from. She is a very pretty, attractive girl and been linked to it by fake news. She lives very happily with her boyfriend. She was here last weekend, and up until Friday night her life was pretty normal."
Anyway, Harper's teacher's "pretty normal" life has reportedly been turned upside down. According to her dad, the poor girl had to suspend her social media accounts after around 800 Facebook friend requests came flooding in when the rumors first emerged.
I got two new Facebook requests over the weekend, so I totally feel her pain!
So how did this whole fiasco even start in the first place? On social media, duh! The rumors that David was reportedly cheating on Victoria with their daughter Harper's teacher reached fever pitch on Twitter last week, and some of the gossip — which eventually hit trending topic level — even said the teacher was reportedly pregnant with David's baby. So much drama! Elite Daily reached out to David and Victoria's teams for comment, but did not hear back by the time of publication.
David did eventually slam the divorce rumors by releasing a statement statement to The Mirror via his rep: "There is no statement due or divorce," the rep said. "This is just fake social media news. This is all very bizarre and an embarrassing waste of time."
The former footballer's remarks came just hours after bookies suspended betting on news of the couple splitting, following thousands of tweets claiming they would soon be putting out a statement. "We've decided to suspend betting on the separation between Posh and Becks," a spokesman for bookmakers Paddy Power told The Mirror.
And, like, thank you very much Paddy Power, because I am so not OK with people betting on the demise of one of my fave couples ever. Or on any couple, for that matter. So not cool. Plus, let's not forget that there are kids involved here — four of them to be exact! Victoria and David share Harper, 6; Cruz, 13; Romeo, 15; and 19-year-old Brooklyn.
Meanwhile, in the middle of all the speculation, the couple — who started dating in 1997, became engaged the following year, and tied the knot in Ireland in 1999 — rolled up to the Kent and Curwen's men's event (David is part-owner of the company) during London Fashion Week on June 10, where they posed for pics with Dior Hommel artistic director Kim Jones, British Vogue Editor-in-Chief Edward Enninful, and Daniel Kearns, creative director of Kent and Curwen. Victoria posted a whole bunch of pictures to her Instagram feed from the event, including two of them that featured her and David together.
Thanks for giving us these pics on the 'gram, girl! I'm gonna go ahead and believe that things are all good in the Beckham 'hood because that's what I really, really want, OK?