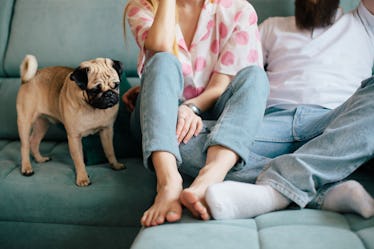 It Turns Out That Having A Dog Has This Major Effect On Your Dating Life
In many ways, having a dog is similar to having a child. You're responsible for the life and happiness of this tiny, adorable creature, and often, your dog's daily routine becomes a major part of how you structure your day. Pet parent life definitely comes with its perks (a constant snuggle buddy and a new friend group you may pick up at the dog park), but it's not without its challenges as well. Dating with a dog requires extra thought and intention, especially when it comes to introducing your pup to a brand new partner. Across the board, it seems as if dog owners agree: Your four-legged friend can make your dating life more complicated — but also potentially more rewarding.
According to a new study from dog-walking platform Wag!, 77 percent of dog owners weigh their pet's response when considering a new partner. Seven in 10 people consider their dog to be an "excellent judge of character," meaning if the dog doesn't like someone, it's a reason for concern. And 50 percent of survey respondents wouldn't consider dating someone who didn't get along with their dog! It's clear that your dog's response to a new prospective mate is something to take seriously. I asked several women with dogs about how their pup has affected their dating life, and their answers are both hilarious and surprising. Read on for your daily dose of puppy mania — and take this to heart before you bring home a dog of your own!