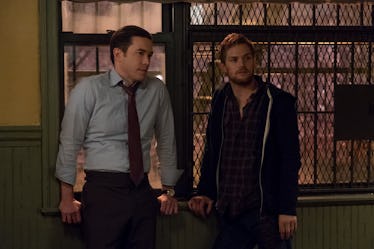 There's A Special Marvel Cameo In The 'Iron Fist' Season 2 Post Credit Scene
Linda Kallerus / Netflix
This post contains spoilers for The Defenders and Iron Fist. Season 2 of Marvel's Iron Fist launched on Netflix on Sept. 7, and if you've kept a close eye on Marvel's social media history, you might have developed certain suspicions about what this season could entail. Just before the new season dropped online, Marvel Entertainment tweeted out a clue about the world's perception of Matt Murdock, aka Daredevil, and the end of the new Iron Fist season just dropped another major hint about the character's future on Netflix's Daredevil series. ICYMI, Daredevil is in the Iron Fist Season 2 post-credit scene, so it looks like we definitely haven't seen the last of him in the Marvel universe.
It's a little tricky to keep all of the Marvel TV shows straight, but if you managed to catch the Netflix miniseries The Defenders (aka the tales of a grittier, Avengers-like team fighting villainy), you saw Daredevil (Charlie Cox) presumably meet his death. But, as Marvel products tend to do, a Defenders post-credit scene warped that thought, revealing that Matt Murdock was actually alive and in the care of several nuns, including his own mother. We'll have to wait until Season 3 of Daredevil hits Netflix later this year for more explanation about Daredevil's well-being and how he survived a building crushing him. However, before Daredevil appeared in Iron Fist's post-credit scene, Marvel hinted on Twitter that in the world of the shows, Murdock is now presumed missing rather than dead.
The post inspired an in-character Twitter conversation among the show accounts for fellow Netflix series Jessica Jones, Luke Cage, and Iron Fist. While Jessica believes that Murdock is dead, Luke and Iron Fist / Danny Rand are more optimistic about the chances of him being alive. In case you had any doubts about Marvel knowing what it's doing with its twists and turns, these interactions played out the day before Iron Fist returned for its second season and unexpectedly delved into where Daredevil is today. Kudos to that marketing and social media team!
In the post-credits scene from Iron Fist, Murdock appears in a confessional booth, dressed in black rather than his trademark red and admitting that he'd "rather die as the devil than live as Matt Murdock." Seeing as we last saw him in the clutches of nuns, Murdock seemingly confessing his sins makes sense.
The third time's a charm, but in this case, it looks like Season 3 of Daredevil will take a much darker turn. We also know that fans can anticipate the return of Wilson Fisk / Kingpin during the third season, but other than this common knowledge, the Iron Fist post-credit scene is the biggest teaser of new Daredevil storylines thus far. Diehard viewers have also turned to the Daredevil comic books for hints about what comes next, formulating theories that Season 3 will follow stories introduced in the "Guardian Devil" and "Born Again" arcs. Whatever may happen, it's clear that we're in for an even more twisted reunion with Daredevil than usual.
Season 2 of Iron Fist is currently streaming on Netflix. Season 3 of Daredevil will premiere on Netflix later this year.