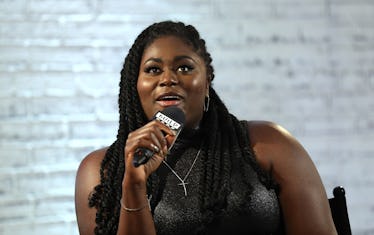 Danielle Brooks Clapped Black At The Controversial Dove Ad & We're Definitely Here For It
Tim P. Whitby/Getty Images Entertainment/Getty Images
It all began with an early morning social media scroll. What was supposed to be an informative glance at events taking place around the world escalated into hurt and pain for one actress. Danielle Brooks responded to the controversial Dove ad she found on social media, and her words on the issue are definitely making an impact.
In a letter for Lenny, Brooks — who has actually modeled for Dove in the past — described the footage she saw when the ad made an appearance in her feed. There were women on the screen, one of whom was white, and the other black. During the video, the black woman removed her brown shirt to reveal another brown shirt underneath. However, when the white woman removed her brown top, she had a white one underneath. Though something so simple, the video was extremely powerful. However, viewers — Brooks included — took offense to the apparent message behind the ad.
Brooks said in her Lenny essay,
The sad fact is that no matter how much adults like my mom built us up and made us feel pride in who we were and what we looked like, there was always a sneaky, vicious monster out there, determined to knock us right back down. That same monster has been whispering in the ears of little brown and black children since before my great-grandmother's time, telling us that the color of our skin makes us dirty.
Dove has since responded to the issue with an apology on Twitter.
The company said, "An image we recently posted on Facebook missed the mark in representing women of color thoughtfully. We deeply regret the offense it caused."
Dove even provided a lengthier statement about the controversial ad.
The statement reads, "The short video was intended to convey that Dove body wash is for every woman and be a celebration of diversity, but we got it wrong. It did not represent the diversity of real beauty, which is something Dove is passionate about and is core to our beliefs." Have a look at the full message below.
The backlash for Dove's misstep continues to grow on Twitter.
People were definitely surprised a move like this happened with such a well-known company. Many users on social media seemed unforgiving in light of these actions.
However, there were those who stood by the company.
Some people will continue to use the products and believed that Dove tried to correct its errors.
Brooks, though upset with the ad, did thank Dove for its apology.
In the past, you have shown your commitment to "thoughtfully representing women of color." I even participated in one of those ad campaigns myself, and I was proud to be a part of it. Do you regret taking that feeling from me?
You were disrespectful, Dove. Thank you for the apology, because I was hurt by this. Thank you for reminding me that it's not only about seeing more representation. The way in which we see representation is what truly matters. And thank you for reminding me that the whispering monster still lives, that it has not been vanquished. Thank you for reminding me that the "Black Girl Magic" and "My Melanin Is Poppin" T-shirts and jewelry I rock aren't just statements of pride. They are armor, armor against the sneak attacks like the one I experienced over my breakfast yesterday.
We've experienced difficult times as of late — between the violent acts we've seen in Las Vegas, to the season of one horrific natural disaster after the other. Now, more than ever, we need to stand together and respect one another, no matter our race, gender, and so on.