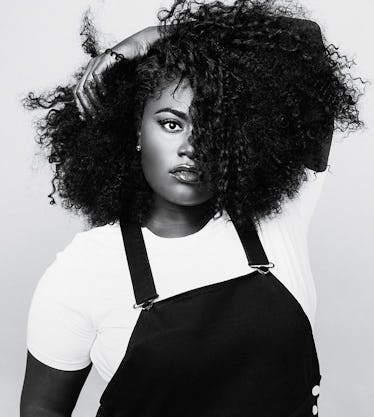 'OITNB's Danielle Brooks Just Dropped The Minimalist Plus Size Collection We've Been Waiting For
Courtesy Universal Standard
This month, premiere plus size clothing brand Universal Standard has launched a capsule collection with Orange Is The New Black actress, Danielle Brooks for her first clothing line with the brand. The collab is called the Tria Collection, and is comprised of three core pieces, two of which come in a selection of trendy hues. Since hitting the market in 2015, Universal Standard has made a name for itself as a high-end destination for elevated plus size minimalism. It's no surprise that Brooks' collection for the brand follows suit. While the styles are not necessarily loud or overtly bold, a closer look reveals thoughtful design and edgy detailing, like the high shine buttons on the dungarees or the sweeping hemline of the shirt dress.
The collection features a classic shirt dress: collared, tailored, and with dramatic lines. It also includes a cashmere sweater dress, which can be worn in a Bardot neck style or hooded. And finally, some quintessential overalls that are impeccably constructed out of stretchy denim. Each item is available in sizes 10 to 28, in a price range of $110 to $190.
It's this attention to detail and commitment to upscale yet easy-to-wear designs that make Brooks' collection so refreshing. Even as the plus size market (slowly) grows, it can sometimes feel as though consumers are being funneled into two prime aesthetic categories. They can opt for the same shapeless trousers, A-line cuts, and tunic tees that once dominated this facet of fashion, or they can go "all-out." They can proudly assume their right to take up space in over-the-top, eye-catching looks. They are looks that, while striking, are often hyper-feminine, which leaves a lot of the plus size market in the dust. Many plus size designs can make women feel as though being accepted as a woman of size is inextricably linked to embodying a more traditional interpretation of femininity.
Brooks' collection does none of that. Although all three pieces could undoubtedly fit into a feminine dresser's wardrobe, they wouldn't likely be out of place in a more androgynous or masculine dresser's closet, either. The cashmere dress is the most form-fitting piece of the bunch, but nothing about it is constricting; these are looks that you can move in. As one should expect of minimalist fashion, neither the dresses nor overalls seem difficult to wear.
Some might argue that there is nothing blatantly revolutionary about the capsule line, insofar as each of its pieces would be readily available in the straight size world. If you rock a size 14 or below, there's a fair chance that you'll come across The Tria Collection lookalikes at your local mall, albeit probably not as beautifully constructed as these babies.
When it comes to the plus size world, however, even the most "basic" or "staple" of pieces can be hard to come by. There is a myth — perpetuated by old-school glossy magazines and mainstream media alike — that suggests fat women are inherently disinterested in fashion, if not inherently unstylish. If one wants to make them appear otherwise, then one must do something entirely out-of-the-box. After all, there's no way a plus size babe could slay in a monochromatic, buttoned shirt dress, right?
In fact, plus size women and femmes can slay in anything of their choosing. They can look just as polished, sophisticated, and stylish in a sweater dress as they might in a leopard-print, faux fur coat and holographic pencil skirt. They deserve the easy, breezy looks, just as the market has long provided for their straight size counterparts. They will not automatically look "sloppy," "messy," or as though "they haven't made an effort," not that there would be anything wrong with choosing not to do so.
Plus size blogger, designer, and journalist Alysse Dalessandro of Ready To Stare once described Universal Standard as "the shop [that] contains pieces in a range of mostly neutral colors, which means that there are no bells and whistles to distract you; the designs are really just that clean and innovative."
There are arguably even less bells and whistles to Brooks' collection, and it's all the more memorable as a result. It's proof, incarnate, that bells and whistles (although often cool AF) are not necessary in order to make a statement. In order to stand out.
When it comes to the evolution of plus size fashion, and the future of the industry, it's undeniable that what many consumers are after is options. Plus size shoppers are after the versatility that's so emblematic of straight size clothing. It's this precise gap that Universal Standard and Brooks are helping fill. As the brand's co-founder Alexandra Waldman once told Bustle, "Size 6 women have never had better taste, they've just had better options. It's a vicious circle: You don't have anything to wear so you wear whatever is available. But, really, I'm making the best out of very little."
With the latest capsule collection added to Universal Standard's repertoire, both Brooks and the brand's co-founders are ensuring that upscale yet easy-to-wear style is all the more achievable for plus size buyers. Because at the end of the day, everyone deserves to feel like they can slay from the comfort of some overalls.