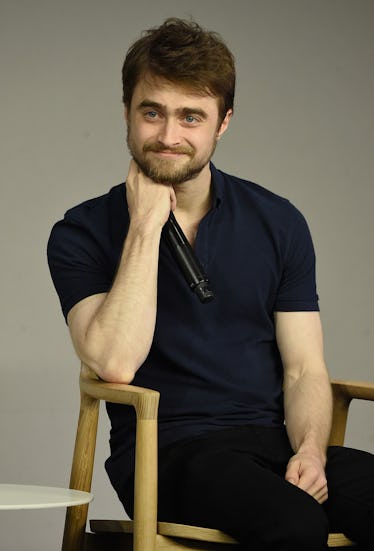 Daniel Radcliffe Stars In 'Beast Of Burden' As A Drug Smuggler, Not A Wizard – EXCLUSIVE
Jamie McCarthy/Getty Images Entertainment/Getty Images
There will be no foolish wand waiving or silly incantations on this plane. Daniel Radcliffe continues to break from his Harry Potter past by diving head first into deep range characters. In his latest movie, Beast Of Burden, Daniel Radcliffe plays Sean Haggerty, a pilot who must smuggle cocaine over the US-Mexico border. Much of the film is treated like a one-man show, showing a lone Sean Haggerty flying a small plane while emotionally grappling between a deal with the DEA, his loyalty to the Cartel, and his relationship with his wife back home. Elite Daily had the chance to speak with Radcliffe about his time working on the film and what fans can expect from this challenging role.
To summarize Beast Of Burden, Radcliffe says it's "a European Scandinavian thriller. It's a very simple story about taking a guy from A to B and seeing how awful we can make that journey for him and hopefully that's compelling to watch."
Speaking on his initial involvement in the film and what drew him to the story, Radcliffe tells Elite Daily:
I read the script and really enjoyed it... It's always a good sign when you're reading something and it's a real page turner and you want to get to the end and know what happens. And then I spoke to the director Jesper [Ganslandt] and I watched one of his other movies and I just thought that he was a very interesting choice to direct it. So, the combination of his sensibilities and how he likes to work with this script was a really intriguing conversation, so I got involved.
The film tells an edge-of-your seat, exciting story, as evident in the trailer below:
In recent years, Radcliffe has made his way from the big screen to the stage. In 2009, he starred in Equus on Broadway, a role that marked his change into adulthood acting. In 2011, he continued his time on the Broadway stage in How To Succeed At Business Without Really Trying, which was met with positive reviews.
In Beast of Burden, Radcliffe shot many of his scenes completely alone, giving it a stage performance quality. This, of course, is much different than his other on-screen roles. He says,
It felt like a play in the way that is was filmed... it allowed us to really perform and do long chunks of the story in one go, in that way it was more similar to doing theater than doing a film, and that was really interesting ... I was in one location and one costume for so much of the film that really made it most distinct from other stuff I've done.
With those long takes, however, came more challenges. Radcliffe explains the difficulty of filming a movie like this.
This is never the answer I would give, but the line learning was really difficult, because we were covering so much ground doing so many pages every day I kind of didn't do anything in the evening, there was no socializing or anything, I was just going home and being like 'OK, I have to learn the next 20 pages now' and that was definitely one of the biggest challenges, and because this was a film where the main character is… kind of panicking throughout the film and I think finding ways to vary how you're showing him panicking and then keeping it together and sort of finding the emotional journey that he's on within this confined space, I suppose one of the challenging parts there.
Besides his roles on stage, Radcliffe is universally recognized as the star of the beloved Harry Potter series, which has continued to grow since Radcliffe's departure.
The Fantastic Beasts And Where To Find Them trilogy is the latest installment in the Wizarding World of Harry Potter, and I would be remiss not to ask Radcliffe about how he feels about the continuation of the franchise.
He tells Elite Daily,
It's lovely. I am very, very honored to hopefully be associated with it for a long time and I'm really glad that people love them so much, but it's been lovely to watch it carry on. There's no sense of 'Oh you know, I wish they stopped.' I'm very happy that they're carrying on and keeping fulfilling the wish of a lot of fans, which is to keep exploring that world and that universe and finding new ways to do it with new characters. I think is really smart and exciting way of going about it.
The magic and appreciation for Radcliffe undoubtably carries on as well.
Since he's conquered both the big screen and the stage, Radcliffe's next project is a TV show. When telling me what's next for him now that Beast of Burden has wrapped, he reveals,
I've just finished a TV series called Miracle Workers, which is going to be on TBS later this year, which I'm honestly so excited for people to see. I think it's going to be amazing and different and really funny and I hope it will make people really happy.
From defeating the Dark Lord to smuggling cocaine to starring in a TBS comedy series, there seems to be no role too difficult for Daniel Radcliffe.
Beast of Burden is in select theaters now.