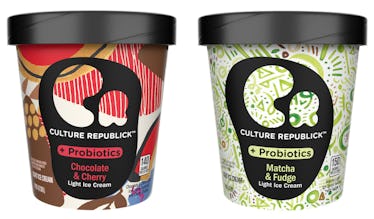 This New Ice Cream Has Probiotics & Amazing Flavors Like Like Cold Brew & Chocolate Chip
Culture Republick
In my personal opinion, there's never really a "wrong" time to eat ice cream. Even though summer is — sadly — long gone, I could still go for a drippy, sticky Ben & Jerry's or Stew Leonards cone on a brisk fall day, or even on a snowy winter evening. Most recently, however, a totally new brand of ice cream brand caught my eye — it's full of probiotics, and the flavor selection is out of this world. So, if you haven't already tried Culture Republick ice cream, it has tons of live active cultures, and it comes in hella epic flavors like Cold Brew & Chocolate Chip. Yum.
Culture Republick's flavor selection isn't quite what one would call "run-of-the-mill." In fact, they don't offer any "classic flavors" like chocolate, vanilla, and strawberry — each flavor option combines two unsuspecting flavors, which actually taste amazing together. The one that really caught my attention, though, was the Milk & Honey flavor. According to the press release, the base is sweet, subtle, and creamy, and it's laced with delicate swirls of wildflower honey. It's unusual for sure, but it sounds like it could quite literally transport you to a warm, summery field of flowers. Wow.
If you're looking for something a little bolder, though, turn to the Turmeric Chai & Cinnamon — it blends vivid turmeric with sweet chai spice ice cream, as well as cinnamon streusel. They also offer Cold Brew & Chocolate Chip, Pistachio & Caramel, Lemon & Graham, Chocolate & Cherry, and Matcha & Fudge. With a total of seven unique flavors, you really can't get bored.
Culture Republick's name kind of says it all, though. Not only does it boast 3 billion live active cultures in each pint, according to the press release, but the brand also actively engages with local culture. They support emerging local artists, by displaying original designs on the outside of each pint. Complete with the artists' signature and contact information, it effectively publicizes their original works. Also, 10 percent of Culture Republick's profits goes toward funding arts in local communities. Pretty cool, right?
Leslie Miller, the Marketing Director of Ice Cream at Unilever, said in a press release that Culture Republick makes customers happy and more balanced, while benefitting the community, as a whole.
In the press release, Miller said,
Culture Republick was created with a distinct purpose in mind. We believe that humanity could use a bit more brightness. By combining our passions for culture and ice cream, we intend to do our part in making people feel more balanced, inspired and connected.
All of this is making me hungry, so if you happen to be craving a pint right about now, Culture Republick is currently available at a growing selection of retailers, according to the press release. Locate your local vendor on their website, and keep in mind that each pint only costs between $3.99 and $4.99. You can get as many as you want, financially guilt-free.
I'll be honest, I previously had plans this weekend... but I'm pretty sure everything is officially canceled. It looks like Friday night through Sunday is going to purely consist of Matcha & Fudge ice cream and nothing else, so I guess I'll see each and every one of you ice cream-lovin' folks on Monday.