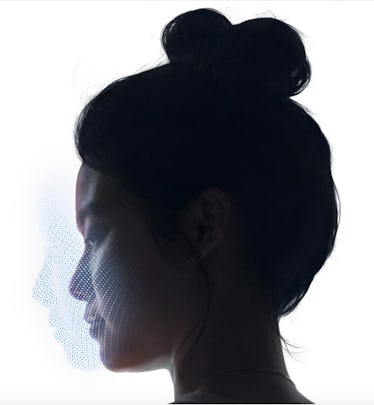 Creative iPhone X Facial Scanner Halloween Costumes That'll Really Creep You Out
As you probably know, the iPhone X release is just around the corner (Nov. 3, to be exact). Along with the new phone comes quite the hefty price tag. If you're opting to pay next month's rent instead of upgrading your iPhone, you might think that you'll be missing out on the latest technology. Thankfully, Halloween will also be here in a jiffy, along with your chance to show the iPhone X some love on Oct. 31 — if you pick the right costume. Read on to learn how to make a creative iPhone X facial scanner Halloween costume.
One of the most talked-about features of the new iPhone X is the Face ID, which replaces the Touch ID that you're used to on your current iPhone. The Face ID feature will use facial recognition to unlock your iPhone X. You will literally look at the camera on your phone, it will use facial recognition software to make sure that's you, and that's it; you're in. Um, hi future, we're here.
OK, now back to the costume. Clearly, it would be kind of tough to dress up as a full iPhone X. I mean, you could put on a full-body iPhone X costume, but you also might want to sit down at some point during the night. That's where the ability to pick out some the coolest features of the iPhone X comes in to play. And what's cooler (or more James Bond-esque) than the Face ID?
The Technical Costume
When you look at how the facial recognition software works for the Face ID, you'll see that it is very precise. According to the Apple website, "It projects and analyzes more than 30,000 invisible dots to create a precise depth map of your face."
That's why this first idea is to literally map out the dots on your face using face paint. The best way to achieve this futuristic look is to either draw dots or lines with a white face paint crayon, and then use a lighter blue to highlight the areas around your eyes, mouth, and nose. You can find affordable face paint crayons like these on Amazon.
Throw on a black top and black leggings, and your iPhone X facial scanner costume is complete. You might even unlock a few phones with how spot-on you'll look.
Have Fun With It
Another cool feature that comes along with the facial recognition scanner is the TrueDepth camera that will let you transform yourself into one of your favorite emojis. According to Apple's website, "The TrueDepth camera captures and analyzes more than 50 different muscle movements, then mirrors your expressions in any of 12 different Animoji."
Instead of going as a panda or cat, you can up the iPhone X influenced on your costume by going as your very own Animoji. This would actually make for a great couple or besties costume.
One of you could go as the actual Animoji, and then the other person would go as the individual controlling the Animoji's movements (A.K.A. just go as themselves). If you really want to up the ante, the non-Animoji person could map out their face like the costume above to make the distinction crystal clear.
Since most masks don't really give you the freedom of expression, you'll want to paint your face as whichever Animoji you choose. The cat should be pretty easy since it's all one color. You can find yellow face paint here on Amazon.
If you're feeling really up to the challenge, you can use this makeup tutorial from Madeyewlook to paint your face like one of the smiley emojis.
Once your Animoji partner in crime is ready, you'll spend all of the Halloween night staying in sync with one another to make sure that the Animoji moves to your exact specifications. And, if you're the Animoji, make sure that you go with someone who has similar tastes because you'll have to eat whatever Halloween treats they choose all night.
Check out the entire Gen Why series and other videos on Facebook and the Bustle app across Apple TV, Roku, and Amazon Fire TV.