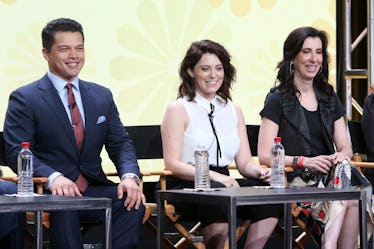 Rachel Bloom Just Made A Major Announcement About 'Crazy Ex-Girlfriend' & Fans Are Crushed
Frederick M. Brown/Getty Images Entertainment/Getty Images
The world of TV renewals is a bittersweet one. Although The CW renewed underdog favorite Crazy Ex-Girlfriend for a fourth season earlier this week, star and executive producer Rachel Bloom saw the exciting moment as an opportunity to spill some sad news. According to Bloom, Crazy Ex-Girlfriend Season 4 will be the final season, and fans' hearts are totally shattered.
When The CW renewed 10 of its shows for the 2018-19 TV season, Bloom shared a cast photo on Twitter that caught the actors' reactions to the renewal. Currently on their live musical tour performing hits from the series, the main cast members were with Bloom on a flight to their next touring venue in Chicago. You just can't plan that crazy timing, right?
Catching her co-stars in their best bedraggled, air travel looks, Bloom wrote alongside the photo:
Just turned on my wifi on our flight to Chicago and found out that #CrazyExGirlfriend has been renewed for a final season.
Although The CW has yet to confirm if Season 4 is Crazy Ex-Girlfriend's last, Bloom has been vocal about her original plans for the show. She and her co-creator Aline Brosh McKenna have always planned a four-season outline for their project, and Bloom seems to believe that doing just that is already more than she can ask for. In a followup message on Twitter, she wrote:
The odds of selling a TV show pitch are small. The odds of getting a pilot shot are even smaller. The odds of getting that show ordered to series are even smaller. The odds of getting past season one are even smaller. Because of @TheCW, #CrazyExGirlfriend beat the odds.
Bloom had a sense of fulfilling that planned ending as recently as last summer, telling Entertainment Tonight in 2017:
We've always imagined the series as four chapters. It's a finite story and so that deadline is coming to a close... I think we exist to tell a great story, and we exist for the critical acclaim. The critics are why we're still a show. And so I think they trust us to tell the story that we want to tell and it's great. I don't really think any TV show should go past six seasons.
While Bloom is insistent that four seasons is a perfect length for the story she wants to tell, fans on Twitter are emotionally split about the show's recent developments. On one hand, there's a handful of more episodes promised, but on the other hand, Crazy Ex-Girlfriend will wrap up its unique story sooner rather than later.
However, many other fans are pleased that Bloom is allowed to end her passion project on her own terms and follow through on the original plan that the show was created under. Even if the thought of a show ending is sad, there is such a thing as a TV series dragging out too long. This way, Bloom can truly give the series the attention it deserves, so let's hope that some bummed fans take this in mind.
Luckily, we still have a few months until Season 4 debuts and we have to settle with the news that the end is near. For now, fans have a sweet video of Bloom telling her castmates about the renewal on the plane, thanks to Vincent Rodriguez III.
The Season 4 premiere date and whether or not Crazy Ex-Girlfriend will move to a new time slot on The CW schedule is still unknown. But rest assured, no matter, we still have a season left of alternating musical wackiness and realness ahead of us.