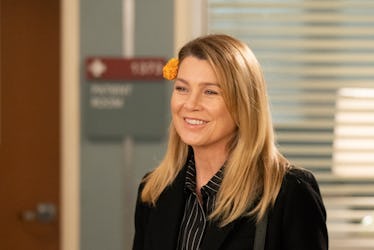 'Grey's Anatomy' Fans Have A Theory About One Of Meredith's Exes Returning To The Show
ABC/Mitch Haaseth
On Season 15 of Grey's Anatomy, Meredith has finally dipped her toe into the dating pool. While she finally ventured out of the hospital for her first date, the special man was still an overly familiar face. Josh Radnor's John just reminded fans of his longtime How I Met Your Mother character, but some viewers are hopeful about another well-known man from network television sweeping in to steal Meredith's heart. Could Finn return to Grey's Anatomy? Chris O'Donnell's McVet is ancient history on the drama, but anything could happen.
Appearing in the second and third seasons of Grey's Anatomy as veterinarian Finn Dandridge, O'Donnell provided an (almost) equally dreamy alternative to Patrick Dempsey's Derek Shepherd. At that point in the show, Derek and Meredith (Ellen Pompeo) were caught in a love triangle with Derek's ex-wife Addison. Meredith's conflicting feelings for McDreamy initially slowed her relationship with McVet, but she still ended up attending the infamous hospital prom with Finn. That eventful night ended with her having sex with Derek, which was definitely the nail in Finn's metaphorical coffin.
Soon after the hookup, Meredith officially "picked" Derek as her guy, but Finn insisted he'd be waiting if Derek ever hurt her again. Twelve years later, the character has yet to return, but what with the current season's emphasis on Meredith finding love again, could Finn visit Grey Sloan Memorial sometime soon?
A few fans on Reddit hope that this is the case. As user elefantstampede pointed out, Finn is a widower and could relate well to this older, more experienced Meredith. Let's assume that he hasn't spent the last decade just pining for her and consider elefantstampede's theory, saying:
But imagine a meet cute in the grocery store. Or something similar. Maybe he's divorced. Maybe he dated for awhile. Maybe he moved away for awhile. He's definitely had stories beyond Grey's.
Seeing as Finn seemed to vanish after Meredith found her happily ever after with Derek, the possibilities of what happened to him are endless. Because the drama's showrunner is now Krista Vernoff rather than original boss Shonda Rhimes, the chances of bringing back such a veteran character are mixed, but we could always use a vintage dose of love on Grey's Anatomy, right? The show's self-proclaimed year of love could totally benefit from exploring a past relationship with a new angle.
Apart from hinting at Finn's return in 2007 when another MerDer breakup occurred, O'Donnell hasn't referenced his Grey's Anatomy role often. Since 2009, he's been busy with a starring role on the CBS drama NCIS: Los Angeles. As seen with ABC's claims that CBS wouldn't let Sara Ramirez return to Grey's Anatomy for a guest stint, stars traveling between networks can be a tricky business. Meanwhile, Meredith's trust in matchmaker Cece may have faltered since her date with kid-hating John, but if Cece tracked down the long-lost Finn, even a simple catch-up between the former couple could boost Meredith's confidence about dating.
His return might be far-fetched, but here's hoping that O'Donnell puts down a gun for a stethoscope sometime soon. Finn doesn't have to be Mr. Right, but Meredith deserves plenty of options in her search for love. Season 15 of Grey's Anatomy continues on Thursday, Oct. 25, at 8 p.m. ET on ABC.