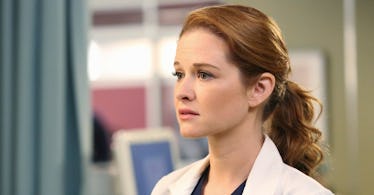 The 'Grey's Anatomy' Showrunner Teased April's Possible Return To The Show
ABC
From making a miraculous recovery from a life-threatening accident to marrying her former fiancé on a whim, the Grey's Anatomy character April Kepner (Sarah Drew) left the series after a lifetime's worth of activity seen in only a few episodes. Seeing as her exit didn't involve a cross-country move or a grisly death, April could feasibly show up at Grey Sloan Memorial again. Could April return to Grey's Anatomy? According to its showrunner, a surprise appearance may be in store further down the line.
Despite the real-life time span of several months, the show's Season 15 premiere opened only a day after the weddings of Jo and Alex and newly reunited match April and Matthew. Although he was happy in his relationship with Maggie, Jackson (Jesse Williams) did seem distracted by April's decision to marry Matthew and officially move on from her history with Jackson. The show even implied that his inadvertent marriage proposal to Maggie was a result of April's absence. Jackson and Maggie nearly getting hit by a car also inspired him to think about how he turned to prayer when April was hospitalized, teasing that the character may become religious even after the devout April's resignation from the hospital. Although he and Maggie ended the two-hour premiere in a strong, non-engaged place, Jackson obviously still has a lingering connection to April.
Showrunner Krista Vernoff didn't specify about whether Jackson's brooding feelings will continue, but when speaking to TVLine, she hinted that there's certainly a chance of April returning to the show. Vernoff said:
Never say never. That's what I said when people asked me if I was coming back to Grey's when I left Season 7. I said, 'Never say never,' and look [I came back]. I'm not promising anything for this season. But at Shondaland, those doors are open.
It would definitely feel a little cruel for Drew to return as April so soon after her involuntary series departure, but logistically, it makes sense for April to still hang around the doctors. As far as we know, she's still in Seattle, working with the homeless population, and she shares a daughter with Jackson. After the pair's ugly divorce, they eventually reached a happy medium in their co-parenting relationship, and they were friendly with each other by the end of Season 14. Although he definitely still seems committed to Maggie, Jackson appearing a little hung up on April comes after she was the more reluctant one in their decision to divorce in Season 12. At the time of the pair's split, Drew explained in an interview:
From April's perspective, she's fighting like hell to try to keep this marriage together. And in that final scene, she asks, are you sure you want to do this? And he looks at her and he looks away, and she has to pull herself together and sign those papers without falling apart, and it's awful.
Well, with marriage off the table for these two, let's hope that they can find their way back to being best friends again someday.
While we probably shouldn't expect an appearance from April in the first half of the new season, the premiere has definitely stirred the belief that she won't be too far from the Grey Sloan gang in future episodes. Season 15 of Grey's Anatomy continues on Thursday, Oct. 4 at 8 p.m. ET on ABC.