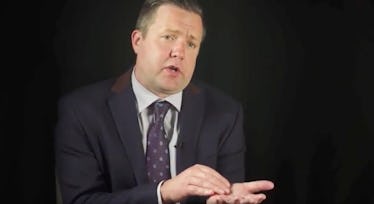 This Far Right Confederate Lover Won A Primary, So Check Your Voter Registration Now
YouTube
Incumbent Sen. Tim Kaine, of Virginia, officially has an opponent. After Republican primary elections for the Virginia Senate on Tuesday, June 12, a right-wing, Confederate-flag loving, hard-line Republican has emerged victorious — the kind of candidate that seemed far-fetched before the election of President Donald Trump. Corey Stewart won his primary in Virginia, so check your voter registration status if you haven't been paying attention — now's a great time to start.
Stewart, a local politician and attorney, took the race by storm by verbally attacking illegal immigrants and defending Confederate monuments in southern states. He also came very close to securing the GOP nomination for governor in Virginia last year — and has reportedly made GOP figureheads nervous that his presence might thwart their sway with voters.
According to The Hill, Stewart based much of his 2017 gubernatorial campaign around the issue of preserving Confederate statues, he called nominee Ed Gillespie a "cuckservative," and was embroiled in controversy for backing an anti-Semitic and white nationalist fringe candidate running for Congress. Stewart also told The Washington Post that white nationalists had been unfairly singled out after clashes in August 2017 in Charlottesville, Virginia that left three people dead and dozens more injured.
"All the weak Republicans, they couldn't apologize fast enough," Stewart said, referring to the Charlottesville riots. "They played right into the hands of the left wing. Those [Nazi] people have nothing to do with the Republican Party. There was no reason to apologize."
Ian Sams, Kaine's communications director, blasted Stewart in a statement released shortly after the primary was called on Tuesday.
"A cruder imitation of Donald Trump who stokes white supremacy and brags about being 'ruthless and vicious,' Corey Stewart would be an embarrassment for Virginia in the U.S. Senate." he said, per The Hill.
Fox News reported that Stewart walked out to his victory party to the sound of chants of — you guessed it — "lock her up." More moderate Republicans reportedly backed Nick Freitas, who was said to have the best chance of beating Stewart for the nomination, but according to The Hill, challenging Kaine, who is well-liked, didn't appeal to stronger candidates. And so, Stewart divided and conquered — he won by less than two percentage points.
Bill Bolling, the former GOP lieutenant governor of Virginia, tweeted a harsh rebuke of Stewart Tuesday evening.
"I am extremely disappointed that a candidate like Corey Stewart could win the Republican nomination for U.S. Senate," Bolling tweeted. "This is clearly not the Republican Party I once knew, loved and proudly served. Every time I think things can't get worse they do, and there is no end in sight."
Other pundits and commentators weighed in on Twitter to make sense of the news.
On the flip side, Stewart received hefty praise from Trump himself Wednesday morning, June 13, via Twitter. Stewart has often been lumped into the same category as Trump, who prides himself on his bombastic rhetoric and disregard for politeness, tact, decency, etc. — and the fact that they've both been embraced by Neo-Nazis.
Trump's tweet, as well as the results of other GOP primaries on Tuesday, seemed to suggest that Trumpian candidates are faring well among Republican voters in the lead-up to the November midterm elections. Rep. Mark Sanford, of South Carolina, a staunch critic of Trump's, was ousted in his primary Tuesday night — narrowly defeated by Katie Arrington, a state lawmaker. Trump threw his support behind Arrington at the last minute on Tuesday, with a tweet, saying,
Mark Sanford has been very unhelpful to me in my campaign to MAGA. He is MIA and nothing but trouble. He is better off in Argentina. I fully endorse Katie Arrington for Congress in SC, a state I love. She is tough on crime and will continue our fight to lower taxes. VOTE Katie!
Is the success of more Trumpian Republicans a sign that the GOP is moving toward overt bigotry, and away from traditional conservative principles? Is it a sign that Republicans need to stay in Trump's good graces in order to maintain support among their right-leaning constituents? It's hard to tell — particularly because there weren't many strong Republican candidates willing to challenge Kaine, per The Hill. Either way, check your voter registration status here, Virginia.