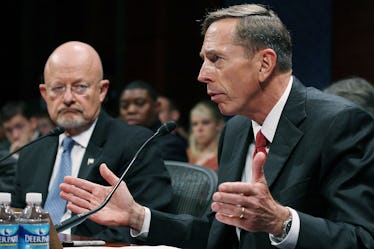 The Trump-Russia Investigation Is Reportedly Nearing An End In Congress, Here's What You Need To Know
Mark Wilson/Getty Images News/Getty Images
Republican leaders in Washington D.C. are indicating that Congress' Trump-Russia investigations into foreign influence over the 2016 presidential election are coming to a close. One chairman of a congressional committee that is conducting an investigation, the Senate Intelligence Committee's Richard Burr (R-NC), has said he'd like the probe to end by February of 2018, according to Politico. Meanwhile, another GOP leader, the House Intelligence Committee's Rep. Mike Conaway (R-TX), has said he wants to finish investigating before the Senate, Politico reported on Friday, Oct. 27.
The previous week, CNN quoted Conaway as saying he'd want the House Intelligence Committee's investigation done,
Absolutely sooner than later. As soon as we get the things done we need to do in order to get the report written and finalized, we'll do that.
News of the potential end of Congress' investigation raises obvious questions, particularly given how complicated the subject of Russia influence over American politics is.
Below are answers to question to may have.
There Are Four Separate Investigations In Congress
Investigations in Congress are being carried out by four separate panels: The House Intelligence Committee, the Senate Intelligence Committee, House Oversight Committee and the Senate Judiciary Committee Subcommittee on Crime and Terrorism.
Both intelligence committees are looking into the specific question of whether there was collusion between members of President Donald Trump's campaign and Russian actors looking to influence 2016 national elections.
Each committee is chaired by a Republican congressman, since both chambers of Congress, the House and the Senate, have a majority of Republicans.
Top Democrats serve as vice chairmen and women and are regarded as the ranking democrats.
Some Democrats And Republicans Seem To Be Focusing On Different Goals
After Rep. Conaway suggested leaders of all four committees meet to better coordinate reaching conclusions, the House Intelligence Committee's ranking Democrat, Rep. Adam Schiff (CA) told Politico,
I think, frankly, it would be a good idea for the four of us to be collaborating as we go along rather than wait until the conclusion of our investigation. I second Mike's suggestion and actually think it would be worthwhile.
The tone of Schiff's comments differ from that of Senate Intelligence Committee vice chairwoman Dianne Feinstein (D-CA), who essentially indicated that Republicans and Democrats on her committee have split attention to pursue different objectives. On Tuesday, Oct. 24, Sen. Feinstein said, per Bloomberg,
We have kind of agreed that each side is going to do its own thing. I think they want to do some things that we don't want to do. And that is go into the emails, and go into the uranium thing.
Feinstein also said that members of the two different parties have essentially agreed to go separate ways. Sen. Feinstein said, per ABC News,
We have decided that each side is going to take a course ... Our focus is obstruction of justice and whether there was cooperation/collusion between the Trump administration and Russia.
There Might Be Unanswered Questions
The apparent incoherence of Congress' investigations appears to affect how likely it is that the investigations will comprehensively answer the questions that prompted the probes in the first place. Rep. Jim Himes (D-CT) told Politico,
It's quite possible that six months from now, there will be unanswered questions that we can't answer because the people we would need to answer those questions are in Russia.
President Trump Has Reached His Own Conclusion
On Friday, President Trump took to Twitter to opine on matter related to Russia.
He wrote,
It is now commonly agreed, after many months of COSTLY looking, that there was NO collusion between Russia and Trump. Was collusion with HC!
The costs that the president alluded to are indeed relevant, given such investigation cost millions of taxpayer dollars. However, no conclusion has been "commonly agreed" between those in Washington D.C. who are responsible for the four Russian investigations in Congress and the one being carried out by the FBI.
Judging by the recent words of some Democrats, there might not even be agreement after the investigations are done.