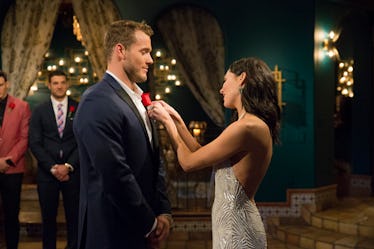 Colton Posted An Instagram For Becca's Remaining Guys & He Seems Bitter
ABC
It's only been a week since we saw Becca Kufrin say goodbye to Colton Underwood, and I'm already in the mood for his comeback tour on Bachelor in Paradise. Becca may have dismissed him from the competition partially because of her friend Tia Booth's lingering feelings for the former NFL player, but one of Colton's latest social media posts (albeit, jokingly) seems like he's not totally over Becca. Colton's Instagram for Becca's remaining guys is a little bitter, but deep down, I don't think he really minds not being in the running for Becca's heart anymore.
Colton spent the aftermath of his elimination episode trying to deal with viewers' responses to the focus on his virginity and relationship with Tia. Obviously glad that the spotlight veered away from him for Week 9 of The Bachelorette, Colton joked about the awkwardness that is Bachelorette men befriending each other despite making out with the same girl every week. Before Episode 9 aired, he posted a group photo of himself with remaining men Blake Horstmann, Garrett Yrigoyen, and Jason Tartick, who was ultimately eliminated before going into the fantasy suite with Becca. Alongside the snapshot, he wrote:
Good luck with my ex girlfriend tonight guys.
The photo definitely screams of uncomfortableness and slight bitterness, but isn't that usually the point of Bachelorette guys' show photos? I'm also distracted by how each person is clearly in their own little world in this photo. Colton looks like the tailend of a barbershop quartet about to burst into song, while Jason is totally emulating young Al Pacino in a gangster movie I couldn't name but still totally exists. Blake looks like everyone's dad caught off guard in a picture from a summer barbecue, and Garrett is...being Garrett, I guess?
While Garrett and Blake remain in the competition as Becca's final two men, Jason will join Colton for next week's Men Tell All episode. The two have been vocal about their friendship online, as Colton gave their bromance a shoutout on Instagram after Jason was cut. Jason even revealed their upcoming plans to see the Broadway musical Frozen with Jason's brother, aka a Darren Criss lookalike.
The promise of Colton reuniting with Tia on Season 5 of Bachelor in Paradise definitely has fans waiting in anticipation, and at the Men Tell All taping, Colton finally offered some thoughts on how the meeting will go. Speaking to Entertainment Tonight backstage, he revealed:
Some things happen that I wasn't expecting to happen. It was very emotional. I think, you know, just coming out of a relationship with Becca, and I'm dealing with Tia at the same time, and I'm also on a beach with a bunch of beautiful women and some of my friends, so I wasn't expecting to feel the emotions that I felt.
Uh oh, it sounds like Colton may fall victim to the Dean Unglert Paradise curse of having too much at once. Steer clear of any love triangles, dude!
However, seeing as he's willingly talking about Tia now, it looks like Colton has accepted his past with Becca and fully jumped into the pool of Bachelor Nation fame. We'll have to wait and see if he offers up any more clues at the Men Tell All about his time in Paradise.
The Bachelorette returns on Monday, July 30, at 8 p.m. ET on ABC.