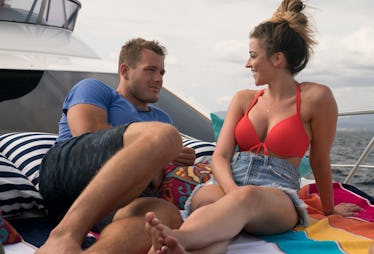 Colton's Breakup Message To Tia On Instagram Was Super Mature & Sweet
ABC
Before he appeared bright-eyed and bushy-tailed on Good Morning America as the new Bachelor, Colton Underwood was crying on Bachelor in Paradise about breaking up with Tia Booth. Their ending on the show may have been a little traumatic, but things seem much calmer between the two now. The new Bachelor has to get used to time in the spotlight, but Colton's breakup message to Tia on Instagram proves that he's ready for saying goodbye in a mature way to 20-plus women. Who said that what happens in Paradise has to stay in Paradise?
On Bachelor in Paradise, the Colton-Tia drama that first began on Becca Kufrin's season of The Bachelorette continued as Tia arrived on the beach with the sole intention of reconnecting with Colton, who she briefly dated before he went on The Bachelorette. After a few episodes of Colton dancing around a relationship with Tia, the two finally dubbed themselves an official couple, starting a fabulous era of being Paradise background players who talked about underwear and cheese. With Colton as Bachelor, we'll definitely have plenty of entertaining credit scenes showing quirky conversations.
But even after Colton surprised Tia with a plate of hot dogs, he couldn't see himself sticking with her until the end and tearfully called things off with her. Both of them left the show afterwards, unable to see themselves trying to make a connection with anyone else. Their departures sent the rest of the cast into a panic as they began debating the strength of their own relationships, and although Colton's future looked bleak upon his exit, his Instagram message to Tia is definitely a step in the right direction.
Alongside a photo of the two enjoying their hot dog feast, Colton wrote:
Thank you for teaching me even more about myself, and most importantly, for your friendship that I know will continue far beyond Paradise. Don't settle for anything less than the world, because that's what you deserve. Can't wait to see what the future has in store for you and catch up on life some day, preferably over a hot dog dinner.
Seeing as Colton's anxiety about not giving Tia enough of himself was why he broke up with her, it's great that he's referencing it again and being upfront about his reasoning. Remember how shady his story about their pre-show relationship always sounded? His sign-off in the message also reeks of positive closure, which must ease any future contestants' worries about Colton still being attached to Tia as Bachelor filming begins.
Colton wishing Tia the best isn't one-sided, either. The two have joked about their breakup wardrobe on Twitter, and since he was announced as the new franchise lead, Tia has congratulated him (and, most importantly, made it clear that she won't be one of his contestants). On Instagram, she also posted a picture of the two together, writing:
Thankful that this chapter of our lives has ended so new chapters can begin. I truly wish you the best, C.
Who would've thought that these two would leave the Paradise process in such a great place? After a summer that seemed devoted to the latest update in their relationship, we've finally reached the calm after the storm when it comes to Colton and Tia. I'm ready to bet on a surprise Bachelor appearance from Tia and Becca to dish out advice for Colton, but until then, let's just bask in the sweetness that is the former couple's new friendship.
Season 23 of The Bachelor premieres in January 2019.