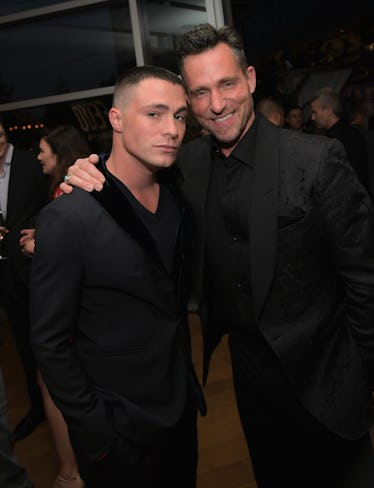 Colton Haynes & Jeff Leatham Broke Up After 6 Months Of Marriage & I'm Heartbroken
Charley Gallay/Getty Images Entertainment/Getty Images
According to a report at TMZ, Colton Haynes and Jeff Leatham broke up just six months after getting married. The Arrow and Teen Wolf star and his renowned florist hubby have apparently decided to call things quits, although reasons for the sudden split are unknown. The couple also recently unfollowed each other on Instagram and Colton removed photos of Jeff from his page as well.
Haynes and Leatham tied the knot in a lavish Palm Springs wedding last October — a stunning event which hosted famous guests such as Jesse Tyler Ferguson, Sophia Vergara, Melanie Griffith and Billie Lourd. Kris Jenner was even on hand to officiate.
"The really great thing about being with Jeff is that since we got together my relationships with my friends have gotten better, my family relationships have gotten better," Haynes told People following the big day. "When you learn to really love someone, it's completely life-changing. Now we have this beautiful life together and this epic journey ahead," he added.
Jeff and Colton were supposed to be set up by friends years ago, but instead ended up meeting by chance at a Paris airport. "I got home and a day later I got this huge delivery of flowers delivered to my house with a card that said, 'What movies are made of.' Everything started from there and it's been this epic romance ever since," Haynes explained to People in 2017 while telling their whirlwind love story.
The couple made their relationship Instagram official in February of 2017 and were engaged a month later when Jeff proposed to Colton in Cabo San Lucas, Mexico. He enlisted the help of none other than the great Cher (plus a few other famous pals) to record a video message for the occasion, and even set up a fireworks display to go off after Colton accepted his hand in marriage.
But appears Colton may have changed his tune as of late. Colton made headlines Thursday, May 3 when he released an acoustic demo of a new emotional new track called "Man It Sucks." The song features lyrics like, "Man it sucks. And I don't like when you're staying out all night and never answer your phone. I follow you around the world to be left alone."
With words such as "don't come 'round here no more" and "late one night I knew that love was lost," Colton's tune sure sounds like a breakup ballad, although he has not confirmed the recording is about his relationship with Leatham.
A former model, Jeff Leatham is the artistic director at the famed Four Seasons George V Paris and is one of the world's most notable floral designers. After working as a model and appearing in shows like CSI: Miami and Melrose Place, now-29-year-old Colton Haynes rose to celebrity playing Jackson on MTV's Teen Wolf. He went on to star in The CW's Arrow. Colton joined the Ryan Murphy-verse via a recurring gig on 2016's Scream Queens and most recently the role of Detective Jack Samuels on American Crime Story: Cult. It was recently announced that he will return to Arrow as a series regular for Season 7.
"Love at first sight really does exist. A lot of people protect their hearts but you have to keep your heart and your mind open. That's how you truly find love in life. Colton has been such an inspiration to me. We couldn't be more different but our love is the same and I think that's the strongest part of our relationship," Leatham gushed about last year.
It's unclear as to if Haynes and Leatham will formally file for divorce or what the future holds for them at this time.