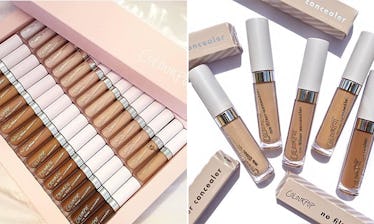 ColourPop Is Having A BOGO Sale On Their No Filter Matte Concealers For Today Only
colourpopcosmetics on Instagram
When I was in my teens, there was a wild misconception that affordable (or "cheap") makeup didn't work. I'm not sure if it was the reign of MAC or bougie high-school kids giving drugstore beauty products a bad name, but affordable makeup was not what it is now. Since the rise in budget-friendly and effective makeup brands, it's no longer embarrassing to carry "cheap" products in your makeup bag — and thank god for that. Even now, with so many makeup brands at my disposal, some of my favorite items are under $10. And now, because of ColourPop's BOGO sale on matte concealers, you and I can stock up on our favorite affordable makeup staple for even cheaper.
ColourPop's No Filter Matte Concealer comes in 30 shades — that alone is a total breakthrough for affordable makeup — and each one is designed to seamlessly blend into your skin tone. The concealers come in shades from fair to deep dark and cover both warm and cool undertones. In other words, you can't not find your perfect match in this sea of colors.
Aside from the shades, this cult-favorite concealer is also packed with invisible blurring pigments that give you a creaseproof finish. And as if that wasn't enough, the concealer is full coverage, so if you want to cover up anything from dark circles to blemishes to redness, this has you covered. If all that doesn't have you hooked on this formula, know that it's also 100 percent cruelty-free and vegan, so you can feel good wearing it.
But here's where things get really, really good. The ColourPop No Filter Matte Concealer ($6, ColourPop) is available for an even cheaper price right now — but the catch is, you only have one day to rake in the savings. Only on Tuesday, October 23, ColourPop is offering a buy-one-get-one-free sale on their $6 concealer. This means that, under this deal, each one only comes out to $3 a pop. I mean, when you put it that way, I'll take 10!
At $3 per tube, why wouldn't you stock up? Besides, this super pigmented matte cream concealer can actually be used as more than just concealer. If you haven't already used it to create super sharp cut creases on your eyeshadow, here's your chance to try it out. And with the 30 shades available at all times, you can blend the best highlight and contour you've ever seen. And trust me, it's so lightweight, you really could wear it all over your face in place of foundation in a pinch.
So I bet you're wondering how you can save the big bucks, aren't you? Go to coloupop.com and fill your cart with all the concealers your heart desires. (OK, well, here's where I should say there's a limit to five freebie concealers per customer.) When you're ready to check out, enter the code "NOFILTER" and watch your total get cut in half.
Honestly, you'll save so much money on those, feel free to add in some additional beauty buys while you're at it! But don't think about what else you need for too long, because remember, you only have today to scoop up the sale. Pick up all the tubes of concealer you need — and maybe one for your friends, your mom, your sister — STAT.