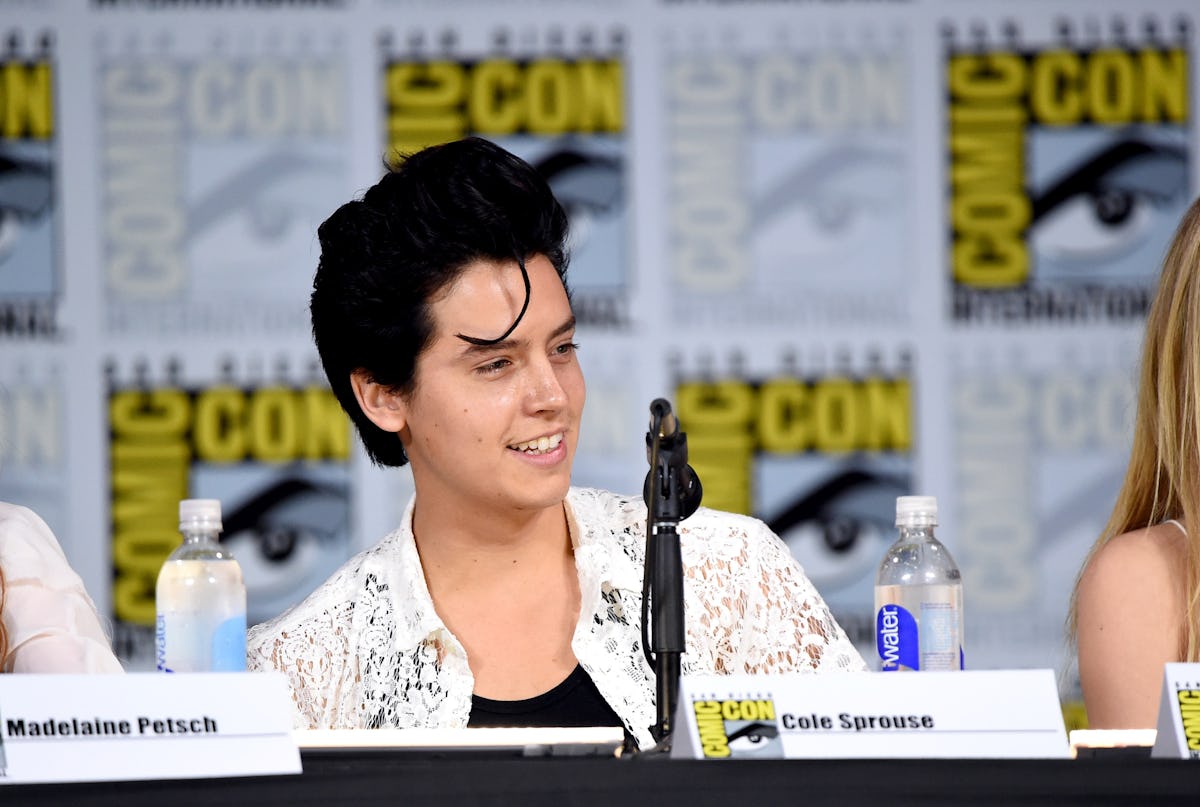 Cole Sprouse Reveals The Hobby That Pulled Him Out Of Depression & It's So Relatable
Mike Coppola/Getty Images Entertainment/Getty Images
The Sprouse twins grew up surrounded by comedians and wore the standard Disney Channel child star grin well, but it's important to remember that as soon as the cameras turn off, real life happens, and it isn't all red carpets and funny scripts outside of Hollywood. Unfortunately, it's not uncommon to learn that our favorite TV characters have struggled with mental health issues off the set, but we can learn a thing or two from how they deal with the pain. For example, Cole Sprouse coped with depression through photography, and often shares his work with fans through his Instagram account which, by the way, is extremely impressive, highlighting artistic images and portraits of starlets from Kendall Jenner to his Riverdale cast-mates.
I guess there's some truth behind the expression, "there's beauty in the breaking." After all, some of the world's most incredible masterpieces are products of depression. According to behavioral scientist Clarissa Silva, creative activities such as drawing, painting, sculpting, and even photography are often used as outlets for stress relief. DIY projects, she tells Elite Daily, "decrease the focus on depressive symptoms" by shifting your focus on the tangible item you've created.
In a recent interview with YouTuber Duan Mackenzie, Sprouse explained how his interest in photography started as an outlet to bring him out of a dark place.
Sitting on a bench in a gorgeous park with the quintessential autumn backdrop, Sprouse began the interview by providing viewers with the background of how his reputation of self-made photographer came about.
He told Mackenzie,
I really used it as an outlet as a way to to create, and feel better, and it took off.
Most of my work took place in a landscape, and there was something profoundly serene about those landscapes, and I sort of used those adventures as an attempt to separate from not just the virtual world, but a world I felt paranoid was watching me.
What makes Sprouse's journey so beautiful is that even though whatever was plaguing him made him feel so low, and so in the dark, he maintained this relentless, go-getter attitude. That, I think, is probably what made the healing process that much more effective for him. The fact that, on a whim, he ducked into Conde Nast one day, asked for the opportunity to sell his work, and continued on from there is powerful.
Sprouse continued,
People are very hungry for a body of work that reminds them of a time that has passed right now.
That's what I want to sell, that's how I feel… If people can end up finding joy with that work with the same thing that makes you feel at peace, keep doing it.
Many people who struggle with depression have found comfort in art as therapy.
In my junior year of college, I took a course on using art as therapy, and I can remember the professor arranging our desks in a semi-circle, so we could all admire the artwork drawn on construction paper sprawled out on the floor, penned by her own therapy patients. The drawings depicted the obvious pain and confusion these patients felt; it was so breathtakingly thought-provoking to be able to visualize someone else's pain, and how they were getting through it with simply a piece of paper and crayons.
According to Routa Segal, a certified creative art therapist who practices in New York, those who suffer from depression should absolutely seek professional help and undergo traditional treatments, but art is another way to break through important barriers.
Segal told Everyday Health,
Every time you create art, you are taking a picture in time. Like a snapshot from a dream, it can reveal what you need to know, and it's yours to keep.
Art therapy is constructive. It's a hands-on experience that channels mental and physical inventiveness that inevitably sparks a stream of thoughts that leads from one idea to another, to the point where even though your art might speak to your struggles, you kind of lose yourself in the actual process of making something, and that is how the healing process can begin.
Finding what makes you feel passionate is a great way to help you work through life's difficult moments.
As someone who has struggled with body image disorder and depression, I have always turned to art as my therapy. I'm a writer by nature, so journaling, and jotting down poetry and prose, was my passion. But I also found comfort in simple things like napkin doodles, and even taking pictures around my college campus. But, just because art is therapeutic for me and Sprouse, that doesn't necessarily mean it has to be your own personal form of comfort.
The best way to find your passion is to a) explore every one of your interests and b) try everything else, too, while you're at it. If you're a college student with electives to spare, or extracurricular activities you can join, scope out your options, and don't be afraid to take on a new project. If you're someone who feels high on life after a jog around the neighborhood or a good workout, sign up for a marathon or take classes at your local gym.
Trust me, I know from experience that when you're at your absolute lowest, the last thing you want to do is step out of your comfort zone. But if you can take anything away from Sprouse's story, let it be this: Changing your attitude can change your mind, and can lead to some pretty amazing things — mental health, mental stability, and maybe even your own masterpiece.