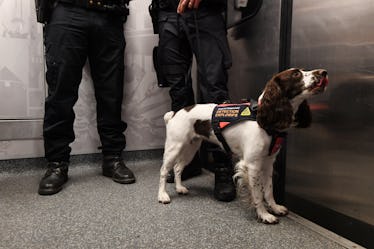 The CIA Pays Special Tribute To Fired Puppy & We're Screaming
ALAIN JOCARD/AFP/Getty Images
With its tribute to a puppy who was deemed unfit to become a bomb sniffer, the CIA may have accomplished the most sensitive firing of an employee ever. On Wednesday, Oct. 18, the agency tweeted out a "pupdate," providing a series of posts that explained how it discovered a dog wasn't cut out for explosive detection. By the end of the series of posts, it was clear that the CIA's tweets about the fired bomb sniffing dog might be the purest thing on the internet this week.
In one of the tweets, the CIA explained that it called time on the puppy's career because of its apparent lack of interest.
We're sad to announce that a few weeks into training, Lulu began to show signs that she wasn't interested in detecting explosive odors.
The agency's Twitter account then elaborated on how its staff could tell that a dog was simply not interested in the work of explosive detection, as opposed to just having a bad day.
Over a series of four tweets, the CIA's account read,
All dogs, like humans, have good & bad days when learning something new. Same for our pups, though it usually lasts just a day or two. There are a million reasons why a dog has a bad day & our trainers must become doggy psychologists to figure out what will help pups. Sometimes a pup is bored & needs extra playtime, sometimes they need a little break, or it's a minor medical condition like a food allergy. For some dogs, after weeks of working w them, it's clear the issue isn't temporary & instead, this just isn't the job they are meant for.
If you're worried about what happened to the puppy, Lulu, after she was deemed unfit for work, just know there's no need to worry at all.
The CIA explained that after dogs leave their K9 program, either by removal or retirement, the dog's handler has a chance to adopt. In Lulu's case, her handler did just that, and now the CIA says she's home chillin' with a new "friend" (yes, that deserves the nosey emoji eyes).
The CIA also explained their decision to remove Lulu from the program and help find her something more fun to do after it was made after it was clear that she was no longer enjoying the work she did, which you're 100 percent not jealous about at all.
One tweet read,
Our trainers' top concern is physical & mental well-being of K9s.They made difficult decision & did what's best for Lulu: stop her training
Lulu's story isn't the only sample of the CIA sharing stories of different dogs in its K9 program. In fact, the agency has put together a whole series of updates detailing how it teaches their puppies the art of explosive detection. This fall, the CIA had six puppies in it's class, including Lulu. For 16 weeks, the puppies take on three lessons per day, every day, even on holidays, the CIA's website details. The puppies are trained by volunteer raisers for 16 to 18 months. Even if a dog fails to make the cut however, they can go on to do other things.
In one of the CIA's stories, detailing how puppies are picked for its K9 program, Pam Foreman, Director of Susquehanna Service Dogs, said,
In the beginning some of our puppy raisers were a little apprehensive about our relationship with the CIA because they knew there was a certain amount of risk associated with being an explosive detection canine, and also because they wanted the dog they helped train to succeed at being a service dog — that's why they became a puppy raiser. But now people are proud that their dog, the dog they helped to raise and train, has more options as a working dog and can go on and do great things for our country.
Lulu might just want to stay home and chill, though. Just guessing.