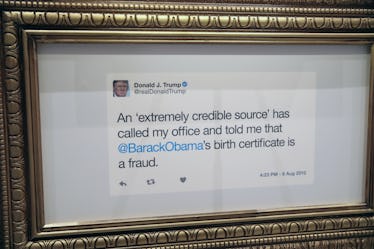 You Can Turn Trump's Tweets Into Crayon Font & It Makes Nuclear War So Much Less Scary
Scott Olson/Getty Images News/Getty Images
If you suffer from bouts of anxiety every time President Donald Trump tweets about North Korea, you're not alone. Fortunately, there's one tool that might at least soften the blow. This Chrome extension, which turns Trump's tweets into Crayon font, may just be the easiest way to quell your nuclear war fears.
The Chrome extension, first introduced on The Daily Show With Trevor Noah back in February, experienced a huge resurgence over the weekend after a screenshot of a Trump tweet in the crayon font went viral on social media. On Saturday, Nov. 11, Trump tweeted from Vietnam, where he was on the second-to-last leg of his Asia tour, "Why would Kim Jong-un insult me by calling me 'old,' when I would NEVER call him 'short and fat?' Oh well, I try so hard to be his friend - and maybe someday that will happen!" Tweeter @riseuphes tweeted a screenshot of that tweet in crayon font, and suddenly people were sharing the crayon-converted tweet version left and right.
The Daily Show piloted the extension on its program. "If you feel like Trump tweets like a child, then we got you, fam," said Noah on a February show. "'Cause The Daily Show has a browser extension that automatically changes Donald Trump's tweets into how they were meant to be read — as the crayon scribbles of a child!" They prompted viewers to download the extension by going to the aptly named website MakeTrumpTweetsEightAgain.com. "ICYMI: We made a browser extension that turns Trump's tweets into the crayon scribbles of a child. Enjoy," the show tweeted on Monday, Nov. 13.
Over the weekend, praise rained down in the Twitterverse, with users saying they were "absolutely loving" the extension, calling it a "truly wonderful tool" and "the greatest thing ever." Users shared their favorite screenshots of Trump tweets in crayon font.
"I got a Chrome extension that changes the font of Trump's tweets to an 8-year-old's crayon font and this particular tweet just nails that 8-year-old mentality," one user wrote. "[I]t is tweets like this that make me really thankful I downloaded the extension that makes Trump's tweets look like they were written in crayon by a literal child," wrote another.
The host of the Dean Obeidallah show tweeted, "Expecting to see written in crayon on #JFKFiles Trump is releasing today the words: 'Hillary did it!'"
And folks have a point. One outlet, entertainment.ie, wrote that Trumps tweets made way more sense when converted to the crayon font. And from a person who has given us such head-scratchers as "Covfefe" and regularly tweets in arbitrary capitalizations and punctuation that make all us grammar people shake with tiny rage, I tend to agree. Seeing the tweets written in crayon helps suppress the urge to red-pen everything that comes out of his feed.
This isn't the first extension of its kind to poke fun at Trump. Back in December 2016, a writer for the Observer had also sent out a plea asking the Twitterverse to create an extension to change photos of Trump's face to something else. And that's exactly what happened — with cats, no less. Make America Kittens Again became a real thing. (Fun fact: the Observer is the very same publication Jared Kushner bought back in 2006 and stepped down from as publisher earlier this year.)
Over the weekend, Trump didn't appear to respond to the Twitter trend, instead sharing content from his Asia trip, as well as throwing the media under the bus and slamming his haters about his relationship with Russia. I'm waiting to see what it would look like for Trump to tweet about the Chrome extension, though, if only because that, too, would show up as crayon scribbles. And I'll take irony over the anxiety that his tweets about Kim Jong-un produce any day.