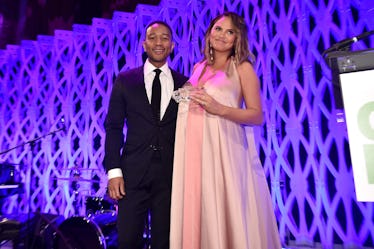 Chrissy Teigen Had The Best Reaction To Finding Out About John Legend's Tony Nomination
Bryan Bedder/Getty Images Entertainment/Getty Images
Life at the Legend-Teigen compound just seems like one big party. She cooks for him, he serenades her. Various Kardashians just randomly drop by. And all the while, Teigen is cracking her snarky little jokes — often at her husband's expense. Oh, to be a fly on the wall! Luckily, we do have a wall, so to speak — it's called Twitter. And if you follow either of these guys on there, you know the Lip Sync Battle star excels at trolling her man in 140 characters or less. May I present Exhibit A: Chrissy Teigen's reaction to John Legend's Tony nomination.
On May 1, it was announced that Legend received a nom for best original score for SpongeBob SquarePants, which I totally did not even know was a musical on Broadway. Anyway, upon hearing the news, Teigen hit up the Twitterverse to congratulate Legend by letting the sarcasm fly like only she can.
"John got nominated for a Tony this morning for a song he apparently wrote for spongebob squarepants," she wrote. "Why does he not tell me when he writes spongebob songs?? What else is he lying about?? Are there other songs out there??"
So amazing! And so much better than writing something all boring and braggy like "OMG I am soooooo proud of my husband the great John Legend for being nominated for a TONY for his incredible work on The SpongeBob Musical!!!!" Seriously, Teigen's tweets are the gift I didn't even know I wanted, but each one is a hilarious little slice of snarky perfection.
Even the official twitter account for The SpongeBob Musical couldn't help but respond to the model mama's quip.
"He never told you about us?!?!?!?" they wrote. "Wow, John… we're kinda hurt. But also, CONGRATS!!!!"
How amazing is that?
Meanwhile, just a few days earlier the tables were turned, when Teigen tweeted out her opinion about ice cream sandwiches — an opinion I happen to share.
"Ice cream sandwiches made with cookies are garbage," she wrote. "The only ice cream sandwich should be the rectangular blocks with chocolate cakey bread with holes. This is not an opinion, it is a fact."
Preach, Chrissy! I love that old school, chocolate cakey bread with holes! But you know who feels differently? Legend. And also comedian Kumall Nanjiani, who responded to Teigen on Twitter with a slightly different stance.
"I don't know Chrissy," Nanjiani wrote. "I've had ice cream sandwiches with cookies made in front of my eyes that have been pretty darn good. It was at my friend's wedding. Perhaps it was the general gaiety of the event, but I did a fist pump. I ate two of them."
Then Legend rolled up to share his own two cents.
"Coolhaus cookie ice cream sandwiches are perfection. Don't @ me unless you agree I'm exactly right."
"You're exactly right," Nanjiani echoed. "That is the sandwich i had at this wedding. Coolhaus."
Teigen, of course, couldn't let things rest there, so she tweeted out a proposal for a compromise.
"But guys," she wrote. "When you bite the cookie, it smashes the ice cream and causes deliberate chaos. can we settle on Klondike?"
Sidebar: How jealous are the people behind Diff eyewear and Sugar Bear Hair that Coolhaus and Klondike just got the coolest A-list celebrity endorsements for free?
Meanwhile, the debate between the three stars went on for a few more posts until Teigen basically shut everything down by sharing a Snapchat video of herself eating a classic ice cream sandwich.
"You win again," Nanjiani responded.
As if there was ever any doubt.