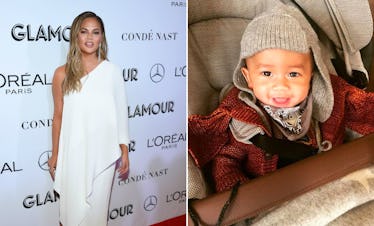 Chrissy Teigen Just Shared The Most Adorable Photo Of Miles Wearing A Helmet
Dimitrios Kambouris/Getty Images Entertainment/Getty Images/Instagram
Can you believe that Chrissy Teigen and John Legend's son Miles is already 6 months old? Where has the time gone? I guess while I was busy sitting on the couch watching reruns of literally anything on the Bravo channel (don't judge), the Teigen-Legend household was doing more important things, like getting little Miles fitted for a helmet. And honestly, Chrissy Teigen's photo of Miles wearing a helmet is almost too pure for this world.
On Monday, Dec. 3, Teigen took to Instagram and Twitter to reveal that Miles needs to wear a helmet to help treat his "adorable slightly misshapen head."
If, at first, you're a bit confused as to why a baby needs to wear a helmet when they're not even riding a bicycle, it's because of a condition known as Plagiocephaly, which can also be referred to as Flat Head Syndrome, and it basically means exactly what it says. According to Healthline, Plagiocephaly "refers to the flattening of one of the soft skull plates of a baby's head," and tends to occur when a baby spends a lot of time in one position — but don't worry, the condition isn't dangerous to the baby at all, so little Miles is doing just fine.
Teigen posted an adorable photo of herself holding Miles, who is dressed like a teeny lumberjack and is rocking his tiny little helmet. Believe me when I say that you will squeal when you see him. She wrote,
my baby bug got his head shaping helmet today! please don't feel bad for him if you see photos. he is a happy bug and we're just fixing his flat!
"Fixing his flat" is somehow the most adorable way to describe this entire scenario. Leave it to Chrissy to make things even more precious than they already are.
To make sure there was a healthy dose of Miles on all forms of social media, Teigen took to Twitter the same day to post a similar photo, and told her fans the backstory as well. "Baby miles getting fitted for a little helmet today for his adorable slightly misshapen head," she wrote, adding, "so if you see pictures, don't feel bad for him because he's just fixing his flat and honestly he's probably gonna be even cuter with it somehow."
And guess what? She's right.
I mean, just look at this lil' peanut!
Teigen later jokingly tweeted, "I have been told it's too late for my head," but c'mon Chrissy. Your head is damn near perfection. Don't even play.
God bless her for trying, though.
One fan tweeted at Teigen, writing, "Is this the official babies with helmets thread?" to which Teigen replied, "I HOPE SO it is so great!!!"
Could not agree more, fam.
After another fan on Twitter applauded Teigen on starting a "great thread," the cookbook author and Lip Sync Battle hosted replied, "It is SO cute. you guys are very sweet."
No, Chrissy, you are very sweet.
I don't know about you, but I'm pretty amped to continue watching Miles' helmet journey. If there's one thing Chrissy Teigen is good at, it's allowing her fans to peer into her world, and for that, we are eternally grateful.