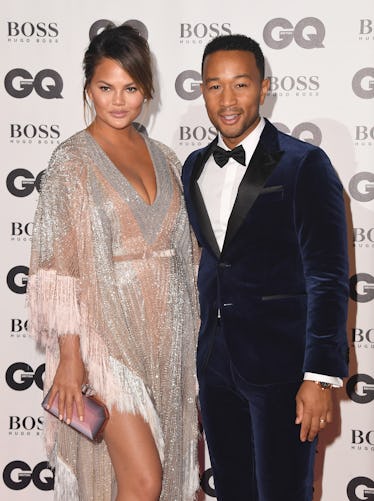 Chrissy Teigen Opened Up About Her Sex Life With John Legend After Having 2 Kids
Stuart C. Wilson/Getty Images Entertainment/Getty Images
Chrissy Teigen is getting real about her sex life with John Legend. And what she has to say is incredibly relatable. Teigen opened up to Women's Health about how having children has changed her outlook on health, sex, and body positivity. As is always expected when Teigen speaks (or tweets, in some instances), there was a whole lot of comedy to go with some very real sentiments. Chrissy Teigen's comments about her sex life with John Legend are some of the most real and honest things you'll read today.
Now that Teigen and Legend have two little ones, 2-year-old Luna and 3-month-old Miles, the lovely couple is beyond exhausted. Not only are they doting parents, but they're super busy with their respective careers. And that doesn't always leave room for sexy time, according to Teigen.
"It doesn't matter who you are — even if you're a sexy R&B crooner or an ex–swimsuit model, you're just tired! We still have that passion for each other, but are we doing it randomly in a dressing room? No!" she said of her relationship with Legend. "We'll get back into it again. But it is funny: If he performs somewhere, and I go, I'm like, 'Oh, he's sexy.' We'll probably have sex that night."
In addition to opening up about the ups and downs of her and her husband's sex life, Teigen also spoke at length about what it's like to be a mom to two little ones. More specifically, she revealed the challenges she faces as a mom who breastfeeds.
"With your second, you just, like, pop 'em on," she said of breastfeeding her son, Miles. "I look at my boobs and I'm like, 'What the heck happened?' They face outwards now. They're like giant disks. I don't even know how to hide them. I forget that people are still like, 'Whoa!' And I don't mean to shove my boob in their faces."
Now that Teigen is happy in her roles as wife, mom, and cookbook author, she revealed that she has very little desire to return to swimsuit modeling.
"Honestly, I don't ever have to be in a swimsuit again," she told Women's Health.
Teigen also talked about how her perspective on weight and body image has changed over the years.
"Since I was 20 years old, I had this weight in my mind that I am, or that I'm supposed to be. I've been so used to that number for 10 years now," she said. "And then I started realizing it was a swimsuit-model weight. There's a very big difference between wanting to be that kind of fit and wanting to be happy-fit."
Wow, what a great message to send to women all over the world. Teigen is clearly the body positive hero the world needs right now. She seems so comfortable in her own skin and one can only assume that's all thanks to how fulfilling her life is right now. I mean, she's got a lovely husband, two beautiful children, and a great career going for her. So, she must be doing something right!