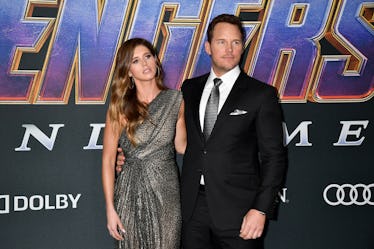 Chris Pratt & Katherine Schwarzenegger Are Reportedly Expecting Their First Child Together
Jeff Kravitz/FilmMagic, Inc/Getty Images
According to a new report, Chris Pratt and Katherine Schwarzenegger are getting ready to bring a new addition into their family. The couple, who tied the knot last June, are reportedly expecting their first baby together. Elite Daily reached out to both Pratt and Schwarzenegger's reps for comment on the pregnancy reports, but did not hear back by the time of publication.
Ten months after saying their "I dos" while surrounded by family and friends in Montecito, California, Pratt and Schwarzenegger are reportedly ready to welcome a child, numerous sources have confirmed. An insider told Entertainment Tonight that the couple was overjoyed with the news.
"Chris and Katherine are extremely happy to be pregnant with their first child," the source said. "The couple knew going into their relationship that having kids together was important to them, so when they found out the news they were extremely happy."
The insider also noted that while the author has been on the road promoting her children's book Maverick and Me, she's looking forward to slowing things down and preparing for the couple's bundle of joy.
"Although Katherine was busy promoting her book in the beginning of her pregnancy, she now has time to be at home and get things ready for when the new addition arrives," the source said, adding, "Chris is so excited."
While neither party has commented on the reports, it sounds like the couple has been thinking about taking the next step in their relationship for some time now.
A source previously told People that the couple has had babies on the brain since before they were engaged. In addition to numerous outings with Pratt's son, Jack, while they were dating, Schwarzenegger and the Parks and Recreation alum were already talking about "[expanding] their family" by the time they walked down their aisle.
"She can't believe how much her life has changed since meeting Chris, a source previously told People. "He was very clear with his intentions from the start, and she has never felt so loved and safe. They both feel so blessed to have found each other, and they can't wait to expand their family as soon as possible."
Meanwhile, Pratt said that he knew his wife was going to be an amazing mom during a January interview with E!'s In The Room.
"She has changed my life for the better in so many ways," the actor gushed at the time. "My heart, my soul, my son, I feel, are all so safe with her."
Pratt also praised Schwarzenegger's relationship with his son, adding, "She's a great stepmom. She's, God willing, going to be a great mom one day. She's got great parents, great siblings, she fills in all my many deficits."
While both Pratt and Schwarzenegger have yet to confirm that a baby is on the way, but they've made no secret about how much they'd love to welcome a new addition to their family and fans will be definitely be staying tuned to see if and when the couple decides to comment on the news.